Premier League: Leon McKenzie hopes Norwich can upset Man United at Old Trafford
Former Norwich striker Leon McKenzie says Manchester United are not unbeatable ahead of their visit to Old Trafford.
By Dev Trehan
Last Updated: 26/04/14 4:38pm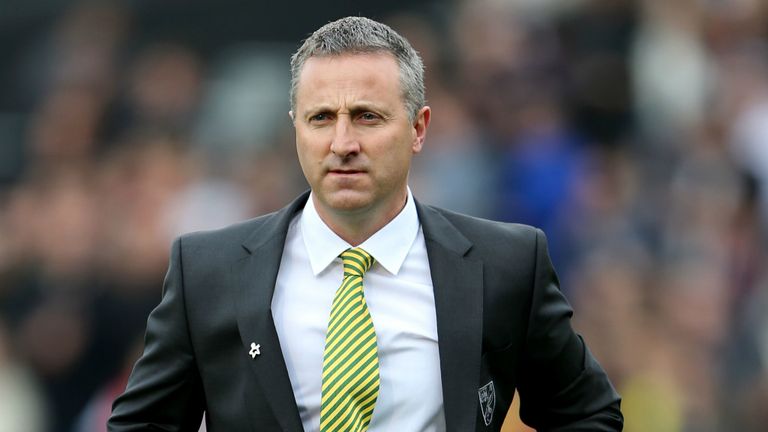 Norwich are one place above the relegation zone and go to Old Trafford in desperate need of a positive result to keep their Premier League survival hopes alive.
And McKenzie insists Norwich must go into the game on the front foot and stick together if they are to get a result which can improve their chances of staying up this season.
"It's a big task for Norwich this weekend but what a great time to be playing Man United," McKenzie told Sky Sports.
"It's a great time to face them because they're not exactly firing on all cylinders at the moment.
"They're not unbeatable by any stretch of the imagination and I really hope that they can get the result that they need this weekend.
"Norwich have got to go there all guns blazing. They've just got to go there and not freeze because when you get down to these last few games and you really need the points then sometimes players can freeze a little bit.
"Once one goal goes in you can kind of crumble and a prime example of that was when I was at Norwich and it went down to the last game against Fulham and we got beat 6-0.
"That was heartbreaking, so it's just about looking each other in the eye and making sure that everyone is together and giving it a good go. That's all you can do."
It's just over nine years since the former striker-turned-boxer scored Norwich's second goal which sealed a 2-0 win for the Norfolk side over United at Carrow Road.
And McKenzie hopes that famous result will give the players confidence ahead of their clash with last season's Premier League champions.
"They can probably take inspiration from the games where Manchester United have been beaten by Norwich teams in the past but these players will now want to do that themselves," he said
"But what's gone is gone and they've just got to concentrate on the here and the now really.
"It is so close and it is so hard to call what is going to happen in these last three games especially because there are so many emotions involved. This is where you need your big players to step up."