Earn your Spurs
Harry Kane discusses loan spell benefits, top-four challenges and World Cup hopes with Chris Burton.
Last Updated: 24/06/13 3:30pm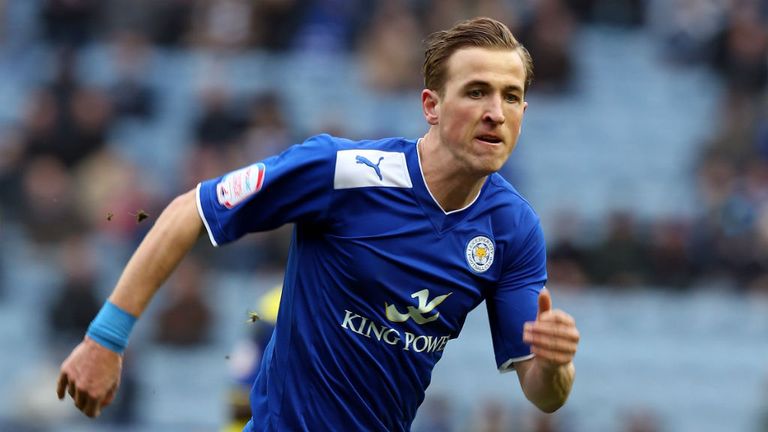 The 2012/13 campaign has almost reached a conclusion, with promotion pushes coming to a close and relegation battles either won or lost.
Here at Sky Sports, we continue to take you to the very heart of the Football League, with our Spotlight features intended to give you a greater insight into the clubs and players that keep us on the edge of our seats.
We are hoping to bring you the views and thoughts of a representative from each of the 72 teams over the course of the season, with those involved asked to give their take on the division they compete in, the club that pays their wages and those we should all be keeping an eye on.
Next in our hot seat is Harry Kane, with the promising forward taking time out to discuss loan spell benefits, top-four challenges and World Cup hopes with Chris Burton.
It was a remarkable end to the season for Leicester - a real mix of emotions after scoring late against Forest and then conceding late against Watford - what was it like to be involved in?
It was a great experience. The win against Forest was a great up and everyone was buzzing and looking forward to the play-offs with confidence, and unfortunately the Watford game was a huge low. But you learn from that sort of stuff and as a young lad it was good to be involved - the Watford game still hurts, it was very cruel on the players and the fans.
And working under Nigel Pearson at Leicester was another useful experience - it's important to experience different managers and different ideas isn't it?
Yeah, definitely. Nigel Pearson is a good manager, I worked well under him and got on well with him. It's good to experience all different managers and different work ethics, tactics and ideas. I really enjoyed my time at Leicester.
For you, looking at the season as a whole, how are you reflecting on things - highs and lows?
There were a few highs and it was unfortunate the way it finished, but it's an experience and you learn from that and take it forward in your career, you have to come back better for it.
You had the injury but ended strongly, so a bit of a mixed bag?
The injury was unfortunate, it came at a bad time when I was just getting going at Norwich, but, again, that's football. You have to take that on the chin sometimes. I worked hard to get back to fitness and I had a good strong end to the season.
You tasted Premier League football and got more Championship experience under your belt, so it's been all positive on the learning front hasn't it?
Definitely. As a young player coming up in the game, I think it's vital that you get that experience and learn from players around you at different clubs. I have had a taste in the Premiership now and more Championship experience, which is what I want, as a player I want to develop and learn.
Do you feel that you have returned to Tottenham a better player? That you've kicked on again after another productive loan spell?
Yeah, I think I have. You're more confident and I'm still growing physically. I have come back and been training at Spurs and I feel sharp and ready to go.
Might next season be similar - you're only 19 and you need to get games don't you?
Exactly. You want to be playing. I'll be going back to Spurs for pre-season and see what unfolds there. I'm a Spurs player at the end of the day, so I'm looking to get into the Spurs side. We will assess the situation in pre-season and go from there.
There could be Champions League qualifiers to look forward to at the end of the summer - still all to play for there?
Definitely. It's all come down to the last game of the season and anything can happen - as I found out at Leicester. Hopefully we can make it through to the Champions League qualifiers and get into the competition. Spurs are a huge club and everything is geared to playing regularly in the Champions League.
Is next season just all about adding experience for you?
Yeah, I think so. I want to try and get more experience, more confidence and get more minutes under my belt, I'm young but I'm ambitious and hungry to play games.
And if you're playing regularly, are the England U21s something you would be thinking about?
Definitely. It was good to be called up to the squad last year and if you are playing well, then scouts are always watching. It would be a great opportunity for me to try and get into the U21s on a regular basis.
What's the main focus for you this summer?
I'm away with the England U20s at the World Cup. We have got a training camp this week. If I'm involved in that, I've got that to look forward to. It's a good squad with some talented players so we've got to believe that we can go on and do well. Hopefully we can try and win that competition.
Finally, disappointed not to be heading to Wembley, but it's an exciting time for you isn't it and there is a lot to look forward to?
Yeah, it is. It still hurts and it's still disappointing that we didn't get to Wembley, but I have to look forward to next season now and the U20s World Cup. Football is all about how you come back from low points and I'm looking forward to working hard over the summer and having a good pre-season at Spurs.