Holloway wants help for refs
Ian Holloway was 'absolutely devastated' after Keith Southern was sent off in the draw with Barnsley, as Keith Hill targets survival.
Last Updated: 09/04/12 11:10pm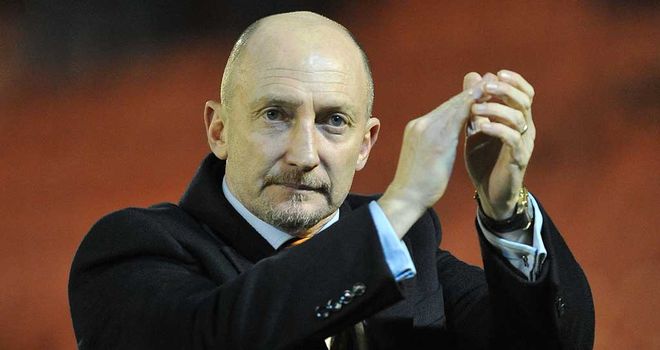 Ian Holloway was 'absolutely devastated' and criticised the officials after Keith Southern was sent off in Blackpool's draw with Barnsley, whose manager Keith Hill is targeting Championship survival.
Southern was sent off for a challenge on Barnsley defender Stephen Foster on 21 minutes, with Blackpool's Matt Phillips then earning a point after David Perkins had put the visitors in front.
Blackpool boss Holloway believes it was Foster who went in two-footed and called for the referee, Andy D'Urso in this situation, and his colleagues to be given technological help.
"I am absolutely devastated with the sending off to be honest. I felt there were two people in that challenge," said Holloway.
Disgust
"My player put one foot in and the other put two in. I have seen it four times from a few different angles and my disgust at the decision won't change.
"Until we get it right we will continue to have the debacle we have seen this weekend in some of the games in the Premier League.
"I don't think it matters who gets there first in the tackle. It's the intent and the purpose and two-footed is much worse than one-footed and that's why Keith is aggrieved.
"He went in fairly to win the ball. I wouldn't have a problem if both men had been sent off but the referees need help and it isn't human help that they need.
"They have a monitor to look at and they should be able to use it to make decisions. These decisions don't even themselves out over the course of the season in my opinion."
The draw leaves Barnsley eight points clear of safety in 18th spot and boss Hill admitted he cannot wait for Championship football to be secured and next season to come around.
Essential
"It's essential that we stay in the Championship and results like this, regardless of the performance, give us a great chance of doing that," said Hill.
"We need to firm up our status and I want to put this season firmly into room 101 and then move on to next season.
"We didn't play the type of football that I want to play. We had a lack of culture and a lack of composure at times.
"We got a goal but still left ourselves open to Blackpool's attacking play. We had two players chasing a piece of paper on the pitch when they scored and that cost us.
"But even with 10 men they were still an incredible force and they have a massive attacking threat and impetus.
"Even with 10 men they were prepared to flood our half with players and go one-on-one at the back."