Fans' group urges owner Assem Allam to forget about changing Hull City name
A fans' group urges owner Assem Allam to forget about changing Hull City's name.
Last Updated: 19/03/14 8:29am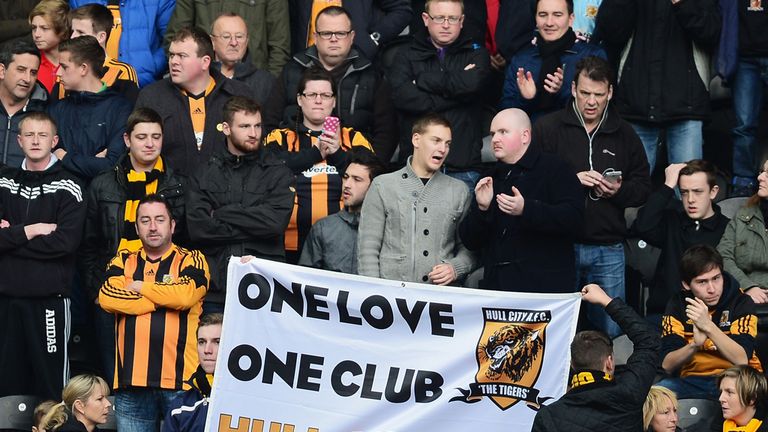 City confirmed on Tuesday that they will poll season ticket holders over the proposal to re-brand the club as Hull Tigers, and accused the Football Association of being prejudiced after learning that its membership committee had recommended the Full Council to reject Allam's proposal at its meeting on 9 April.
The City Till We Die campaign group is confident any poll will result in a 'no' vote, and hope that will be the end of the matter.
Allam has threatened to walk away from the club if he does not get the answer he wants from the FA, but City Till We Die spokesman Mark Gretton has urged him to think again.
Gretton said: "We have said from the start, this has not been an anti-Allam campaign, and we have taken a lot of care to make sure it hasn't been. We are more than happy to work with them.
"If more revenue is needed at the club - and we recognise absolutely we need to grow the brand, we would be delighted with that.
"In many ways, the Allams have been excellent owners of our club and whatever happens, we have a lot to be thankful to them for.
"When they stepped in, the club was in a parlous position. It's been the issue of the name-change which has caused the problem.
"We have been broadly happy with what's happened under the Allams' ownership of the club and we would like this to be finished. That's why we welcome a season ticket holders' poll.
"If we can get a popular vote against the name change, we are not going to crow about it, we have no need to.
"Hopefully, he would just abandon the plan and we could say, 'Well done for being the bigger man'. We'd be delighted about that and we could start afresh."