Premier League: Hull City boss Steve Bruce unhappy after 1-1 draw with Stoke
Last Updated: 25/08/14 6:17am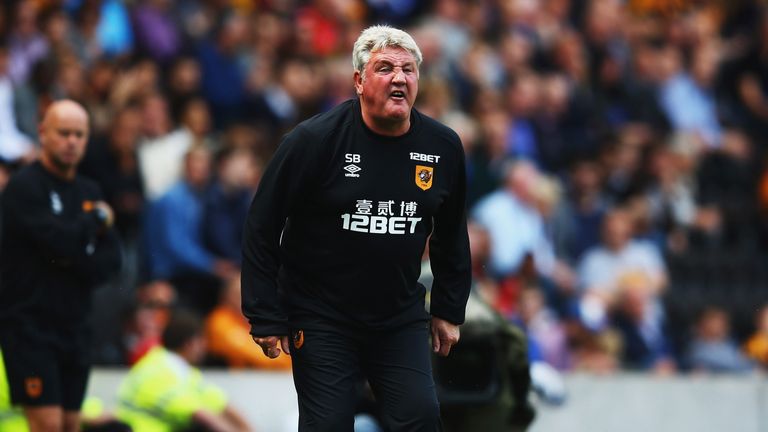 Steve Bruce was unhappy with the officials following Hull City's 1-1 draw with Stoke City at the KC Stadium.
James Chester, who was last week's match-winner at Queens Park Rangers, was sent off after 14 minutes before Hull took a 42nd minute lead through Nikica Jelavic.
Stoke equalised with seven minutes to go when Ryan Shawcross' scruffy effort crept over the line, but Bruce was unhappy that the visitors were awarded a throw-in, rather than Hull, in the lead-up to the goal.
"You've got to be pleased with a point," Bruce told Sky Sports. "When you go down to 10 men after 14 minutes, then of course you would take a point.
"To take the lead and defend the way we did, we were magnificent and the difficulty I have is the disappointment of the goal.
"If they score a legitimate goal, they break you down, play a one-two or Bojan does a bit of magic, then you accept it, but the players have come in with disappointment etched on their face.
"It's a throw-in that is blatantly ours. I'm 30, 40 yards away, standing next to the linesman. He's got the technology, the fourth official is next to me and looking straight at it. Their player is running away from it and knew it wasn't their throw-in.
"You've got three officials and, in my opinion, you have got to get decisions like that right. It wasn't even if it was just a miniscule touch, it changed the whole direction of the ball."
Bruce had no complaints about Chester's red card, adding: "He's absolutely got it right, there's no question, with the law the way it is at the moment.
"You accept decisions like that, but we've had two awful ones now. I must have been fined four times last year. I phoned up Mike Riley more times than I phoned my missus.
"I think, unfortunately, I keep saying the same thing. We feel aggrieved. It's hard enough to play with 10 men against Stoke for 80 minutes. You need a little bit of a hand and you expect the officials to get that right."