Sky Bet Championship: Brian McDermott pleads with Leeds to keep faith with him
Brian McDermott has pleaded with Leeds United to keep faith with him, saying: "I'm the man to do the job at this club."
Last Updated: 14/03/14 3:45pm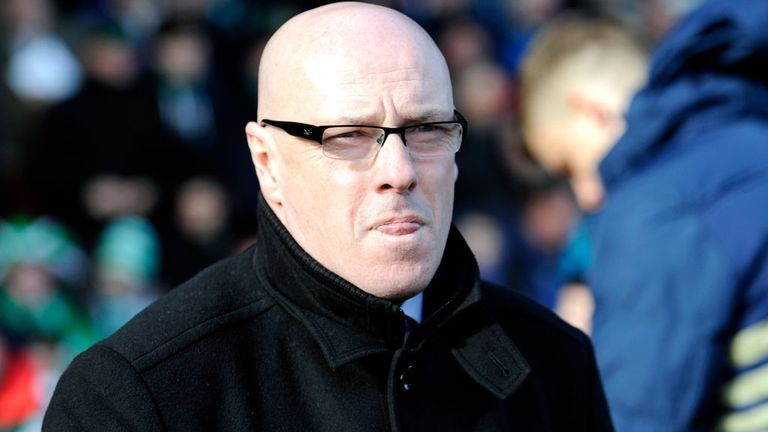 The Whites are still licking their wounds following back-to-back maulings by Bolton and Reading, who won 5-1 and 4-2 respectively at Elland Road.
Leeds have lost three and drawn two since last tasting victory at Huish Park in early February, when they battled to a 2-1 win over Yeovil.
Their slump in form has seen them drop down to 15th in the Sky Bet Championship table, where they lie 11 points off the play-offs pace.
And things do not get any easier for McDermott's men, who travel to Turf Moor on Saturday for a showdown with second-placed Burnley, who are unbeaten on home turf having won 11 and drawn six of their 17 league games.
The Football League has said it could take up to 10 more days to make a decision on the ownership of Leeds, who are currently waiting to find out if the takeover by Eleonora Sports - an Italian group headed by Cagliari owner Massimo Cellino - from Gulf Finance House Capital will be passed.
McDermott's contract runs to 2016 and he says he has spoken to Cellino twice in the past week, describing conversations as "good".
He admits losing to his former club Reading, who he steered to the Premier League, in midweek was particularly painful.
But McDermott insists he is the right man to get Leeds back into England's top tier if given time.
He told the Yorkshire Evening Post: "Is it pleasant at the moment? No, it's not pleasant. Do you think I'm stood on the touchline thinking 'this is a great job?' No, I'm not.
"Looking at that scoreboard (when Leeds trailed 4-0 against Reading on Tuesday) is horrible. But it makes me stronger and it makes me want to do this more.
"I honestly believe I'm the man to do the job at this club. It's been proven in the past. I've done it in this league, I've got out of this league. If I had no track record then you'd sit here and say 'this guy can't do it'. But you know I can because it's been done in the past."
Speaking ahead of Saturday's clash with Sean Dyche's Clarets, McDermott said: "When I turned up here I said that there were three words I would use (about Leeds) - hope, expectation and then disappointment.
"We're now in the disappointment stage. That's the cycle I'm trying to break and get out of, to move this club forward.
"Sean (Dyche, Burnley's manager) has set up the sort of team which has historically got promoted from this division.
"What I'm trying to build is a team that can get promotion from this division but that can take time and it's taking me time.
"All we can do now is go to Burnley and try to win. I'm looking forward to the challenge."