Sky Bet Championship: Owen Coyle embarrassed by McClean rumour following Wigan's 1-0 win at Yeovil
Wigan manager Owen Coyle is "embarrassed" at claims that James McClean was dropped from the squad to face Yeovil.
Last Updated: 10/11/13 6:26pm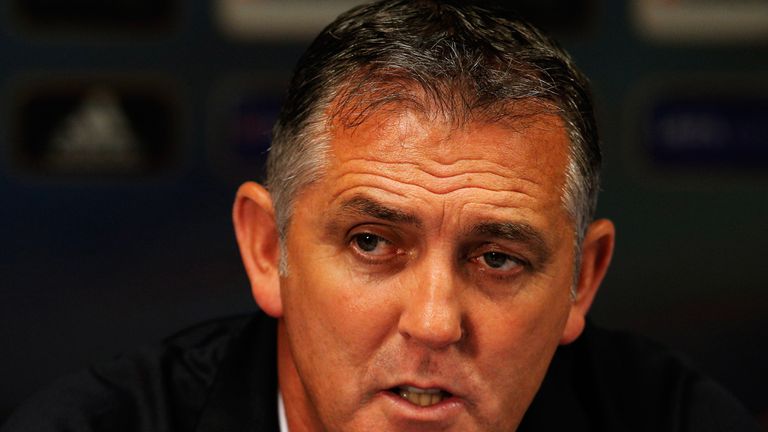 The Derry-born winger, who moved to the Latics from Sunderland in the summer, received death threats and faced a storm of criticism last year after opting to wear an unmarked shirt against Everton in the run-up to Remembrance Day.
Rumours escalated on Sunday afternoon that the Republic of Ireland international had been dropped from the Wigan squad over the issue - but Coyle revealed he sustained a dead leg in training and had simply missed out due to injury.
Coyle said: "The only reason James McClean didn't play today because he was injured, it's as simple as that.
"He would certainly have been involved if he was fit. I'm never evasive and always up front, but I'm actually embarrassed that I'm getting asked that question in this day and age."
Coyle's team were 1-0 victors at Huish Park, with Marc-Antoine Fortune grabbing the only goal.
The Latics manager added: "We've been outstanding in the seven games we've played this month. Anyone who's watched our games will know we have a quality side.
"I thought we had a slow start in the game, Yeovil bossed it for the first 20 minutes, but in the 10 minutes beforehand there was only one team taking charge, and that was us.
"We had three cleared off the line, hit the woodwork, and were really in the ascendancy. We came out and dominated the second half and had numerous chances.
"You've got to give credit to Yeovil. They are a good side and battle away and their quality belies their league position."
Yeovil manager Gary Johnson said his side are not getting "50/50 decisions" from referees.
He said: "Our cup finals are the six or seven teams down the bottom with us, starting with Doncaster next Friday.
"We play very well against the top teams, have as much possession and as many opportunities as them, but we never turn those chances into goals and wins.
"We don't dominate when it comes to corners or set plays, and our quality wasn't there. We arrived either too late or too early and I'm disappointed with that.
"I'm not burying my head in the sand because I thought the boys worked hard today and gave everything. I love them for that.
"The lads were saying there was a handball in the build-up to the goal but we just don't get the 50/50s.
"Not only were Wigan stopping our momentum but the officials also stopped our momentum. They allowed them to take their time over everything when we were in the ascendancy."