Rodgers hails 'phenomenal' win
Swansea manager Brendan Rodgers hailed his side's 'phenomenal' performance against Fulham.
By James Riach at Craven Cottage
Last Updated: 17/03/12 7:10pm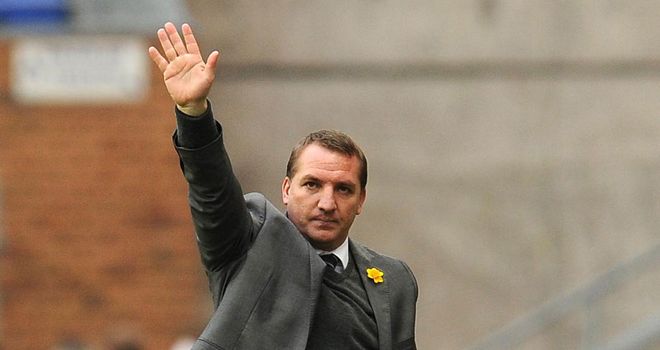 Swansea manager Brendan Rodgers hailed his side's 'phenomenal' performance against Fulham.
The Swans ran out comfortable 3-0 winners at Craven Cottage to see them move to eighth in the Premier League, thanks to a brace from Gylfi Sigurdsson and an effort from Joe Allen.
Rodgers' side are on a roll after beating Manchester City last weekend, and he believes this was their biggest match of the campaign so far.
"It was a phenomenal performance. I thought this was our biggest game of the season," he said.
"I said to the players beforehand, after the high of last week and the result against Manchester City, I just didn't want to be a team who raises their game for the big games.
"I knew Fulham's record at home has been incredible but I thought we put on a clinic today of what we're about.
"It was a joy as a manager to see that relationship between the training and the game. Our possession game was fantastic.
"To come here and score three goals, and maybe we could have had one or two more, and control the game like we did was obviously very pleasing."
Rodgers admitted that he would like to add Sigurdsson to the squad on a permanent basis, with the midfielder currently on loan from German club Hoffenheim.
Terrific
He added: "He's a terrific boy and I thought we needed a goalscoring midfielder. He's a wonderful lad and he fits into our group - our group love football and they work very hard every day.
"He's been to Hoffenheim and it hasn't worked out for him. He's coped and adapted very well.
"Wherever you play him, if you played him at right-back he'd still score. That's instinct. Hopefully he continues to perform well.
"It's something we need to assess. Our chairman has touched on it and we've spoken to the agent but we're just letting it run at the minute.
"It will be up to Gylfi. He's still got a few years left there and obviously Hoffenheim ultimately have to want to sell him. We'll see."
Rodgers continued: "Our aim is to do the very best that we possibly can. I've never set a points target or a position in the league.
"Our only objective is to defend the way we play, right the way through the season, continue to learn and improve - let's see where it takes us.
"There are no big-time Charlies in this group. They're focused, not driven by money, driven by being the best they possibly can. But our objective is still the same - to stay in the league."