Swansea City boss Michael Laudrup delighted with second-half response
Swansea City boss Michael Laudrup says he was delighted with his side's second-half show in the 4-0 win over Sunderland.
Last Updated: 20/10/13 3:17pm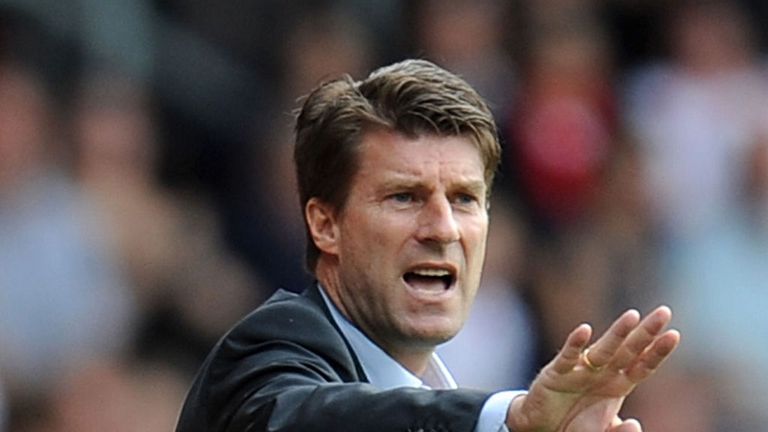 After both teams had failed to break the deadlock before the interval, a seven-minute flurry of goals put the Swans well on course to secure their first home win of the season.
Own goals from Phil Bardsley and Steven Fletcher sandwiched a fine strike from Jonathan de Guzman and a Wilfried Bony penalty, although Laudrup was left pondering the first-half performance.
"That's football - how it can change in 15 minutes. We did not play well in the first half but one thing is to say it, it's another thing to analyse why didn't we play well?" he told Sky Sports.
"Too many players were up there waiting for the ball, no movement. I think we changed a few things at half-time, I think everybody could see it was a completely different team in the second half.
"I have to give credit as well to Sunderland for the first half because they defended very well. There was no space at all and, of course, new manager, everybody wanted to show that they should play now and in the future."
Laudrup also acknowledged his relief at securing the win in what could have been a potentially tricky game following the arrival of Gus Poyet as Sunderland manager.
"They always say that a new manager usually gets a good result," he said.
"Fortunately for us, it wasn't true today and we got the result after a great second half, four goals and a clean sheet. Returning to a home win in the league was very important.
"I think they have good players. Fletcher's back now, Giaccherini, Johnson - they have some good players so let's see in the next game.
"Of course, eight games and only one point is not very much but we've seen it so many times, not only here but in other leagues as well. There's still 30 games to go."
Bony netted his first Premier League goal since the opening day of the season from the spot, something which pleased Laudrup, but it was converting set-pieces which really satisfied the Swans' boss.
"That's always good when your forward, especially in this case, a new one, has scored. But I'm very pleased with scoring two goals from set-pieces," he said.
"We haven't done that a lot and defensively on set-pieces, I think we've improved lots. Last season we conceded a lot of goals, 15 or something from set-pieces."
Laudrup also explained the substitution of Ben Davies early on in the second half, saying it was a precautionary move after the full-back had taken a knock.
"He has twisted his ankle. It's strange; I think it's the third or fourth player we lose with a twisted ankle so we'll have to see how bad it is," said Laudrup.
"We'll know a little more tomorrow or the day after so hopefully it's not too bad."