Premier League: Michael Laudrup: Swansea could sign cover for Michu and Nathan Dyer in January
Michael Laudrup says his Swansea squad is short on numbers but insists they can get positive results over Christmas.
Last Updated: 26/12/13 10:54am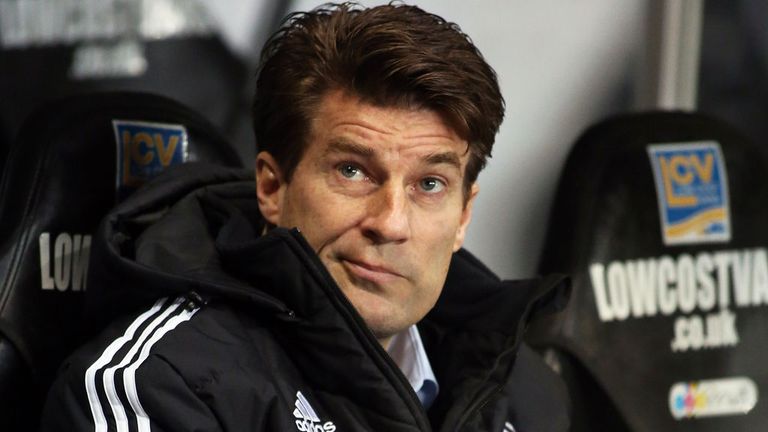 Goalkeeper Michel Vorm is also out injured for Laudrup's men as they face a busy festive season where they play three times in seven days, beginning away at Chelsea on Boxing Day.
And speaking live to Sky Sports' James Cole at Swansea's training ground on Christmas Day, Laudrup admitted his squad is down to the bare bones.
"It is (tough), but that's why we have a squad," Laudrup told Sky Sports News. "We're not having 11 or 13 players only - we have a squad and I think we are using everybody. We've done that already for half the season so far.
"But it is true right now, number-wise, it is a little bit tight. We only have 19 players. Right now, we have two players out for six or a little more weeks so we may have to see in the market in January but for the next two or three games, we have these 19 players and I have a lot of confidence in this squad.
"You have to wait and see what happens," Laudrup added when pressed on how likely he is to reinforce his squad in January. "Two weeks ago, I was asked about the transfer window and I said maybe we don't need to sign anyone and in seven days, we lost two players for several weeks in Michu and Dyer.
"So things can change quickly in football. Let's see what happens in the next three or four games and then when we come to January, we will take some decisions.
"Yeah of course (it's likely that any potential signing would be an attacking player). The two I just mentioned to you - one is a striker, the other is a winger, so it's not a wild guess to think we are going for an offensive player.
"I'm happy with loans but the thing is there will be a lot of clubs looking for strikers so it will be tough for us - but we have to do as good a job as we can."
Last season, Swansea played consecutive away games against Reading and Fulham just after Christmas and find themselves on the road again this season with games against Chelsea on Boxing Day followed by Aston Villa on Sunday.
Swans captain Ashley Williams admitted they would have rather been at home but said getting something out of the games is the major objective for the squad.
"We're all in it together and the camaraderie is great," he said. "They're obviously difficult matches against Chelsea and Villa away and then Man City at home who are arguably one of the best teams in the league.
"It's disappointing we have two away games over Christmas - we would have liked one at home but that's the way the fixtures fell. It's an important time. We want to come out of this period with some points on the board."