Premier League: Ashley Williams pleased to see Swansea winning for Garry Monk
Ashley Williams was delighted to collect three points on Saturday, with recent form having let boss Garry Monk down.
Last Updated: 31/03/14 2:35pm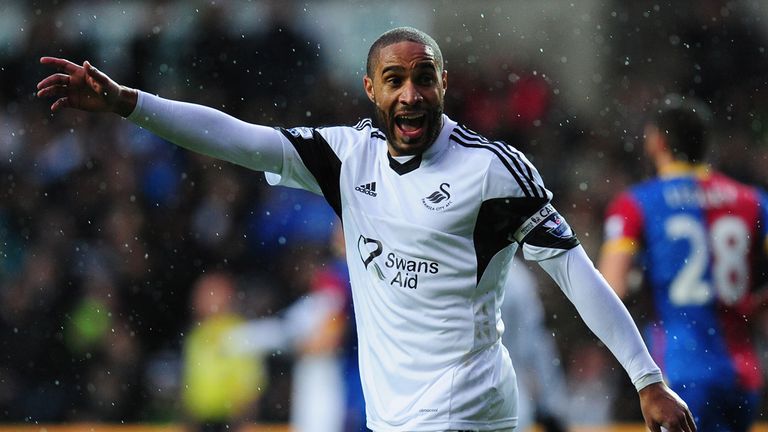 The Swans returned to winning ways at home to Norwich City, with a 3-0 victory bringing to an end a run of nine without success in all competitions - dating back to a memorable derby success date with Cardiff City in early February.
Williams concedes that an alarming slump which dropped the club into relegation trouble saw the players failing to produce for their manager and a loyal fan base.
He hopes the Norwich result will prove to be a turning point, with there still only seven points keeping Monk's men clear of the drop zone.
Williams said in the South Wales Evening Post: "It's only natural for me, being so close to him (Monk), to feel that we let him down. People are looking at him, thinking we're conceding goals - and he's a defender - so what's going on?
"I can tell you that the week's work that we're doing is brilliant and, if you ask any of the lads, they are enjoying it.
"We know the game plan, but we've been going out and not always executing it.
"On Saturday I was pleased for him, and all the staff really, who work hard. You can see how hard Garry Monk works. It's 24/7 for him. He's got the twins and he probably never sees them.
"I'm pleased for him. Maybe now people will stop judging every little thing - which is only natural and he's big enough to take that.
"But, from our point of view, we've enjoyed working with him. We know that the best thing we can do for him is get results."
On a welcome victory over Norwich which saw the Swans click again, Williams added: "The win was massive, especially with the way we won by scoring three goals and not conceding.
"It was a complete performance. I don't know how it looked, but I felt we played really well.
"It felt good. We kept the ball well. We didn't have to defend for our lives at the end, with a one-goal lead or anything like that. It's just what we needed.
"I've come out before and said that I felt it was coming, it was close. It was always a little thing that let us down. We wanted to take it out of the referee's hands.
"We didn't want it to be decided on a decision, or anything like that. We wanted to get a few goals in the lead, and we did that."