Millwall meet with FA to discuss Wembley violence after semi-final
Millwall chief Andy Ambler has met with Football Association officials to discuss Saturday's violence at Wembley.
Last Updated: 19/04/13 8:16am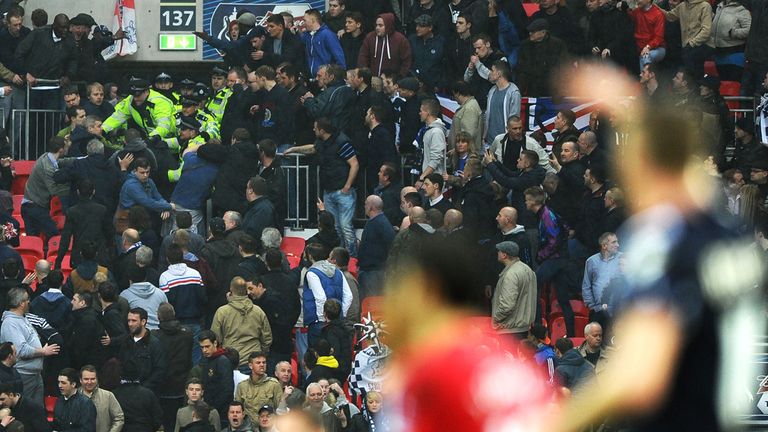 The Championship side lost 2-0 to Wigan at Wembley, but the game was marred by violence in the Millwall end.
A number of arrests were made on the day but Millwall are keen to stress they are doing all they can to help prevent such scenes being repeated in the future.
"I went to see (FA general secretary) Alex Horne and (FA chairman) David Bernstein this morning because we wanted them to know we had been working away here at the club on Sunday and continuing today and that we were throwing all the support and weight we had behind the investigation," Ambler told Sky Sports News.
"The FA understands all the work that we have been doing and that we are not resting on our laurels.
"We have a lot of work to do and it was a case of getting through to them that we will work alongside them and the police to ensure we deal with this in the appropriate way.
"We want to make sure this cannot happen again at any of our games going forward."
Ambler revealed that the club had been contacted by fans keen to pass on information to help the identification of those responsible for Saturday's violence.
"We've had a lot of help from our fans," he added. "They are as horrified as everyone else and it is good that they are coming forward.
"We've got a lot of bridges to rebuild. We've come a long way in the last few years and we need to continue moving this club forward.
"We use the word family at Millwall and we believe we are and we include our fans in that.
"These scenes were horrible but they were a minority of the 32,000. The vast majority behaved in the right way.
"There are a lot of people getting in touch today to sympathise with us and tell us to keep going."