The play-offs: Craig Mackail-Smith and Guy Branston preview the semi-finals
Our FL72 bloggers describe their final day drama and look ahead to the play-off semi-finals.
Last Updated: 08/05/14 10:49am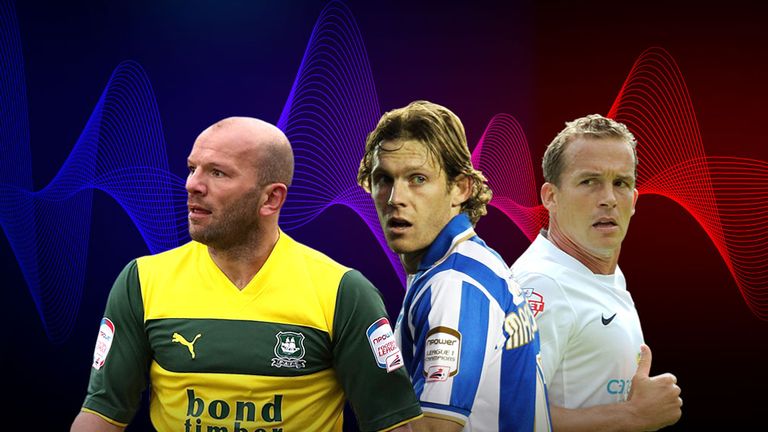 As well as a weekly blog from Leicester striker Kevin Phillips, we have been speaking to some other seasoned campaigners in the Football League.
Brighton frontman Craig Mackail-Smith and former Plymouth defender Guy Branston - who all appear on Sky Sports News Radio's new show FL72 Weekly - have been giving us their insight on all manner of footballing issues.
We've almost reached the conclusion. After 3,312 games the Football League approaches its final jaunt of the 2013-14 season, the play-offs.
This week we've asked our bloggers to reflect on the season that was and look ahead to this season's play-off semi-finals, where one of our bloggers may have a starring role on Thursday night...
CRAIG MACKAIL-SMITH
Saturday worked out pretty well for me.
I actually thought I'd have been on the pitch a little earlier but with the way the Reading v Burnley game was positioned, tactical decisions were difficult. That result was still level with a couple of minutes to go, we needed to do something.
To come on and have an effect was great. I remember hitting the cross and thinking, 'get it into a good area'. I know Ulloa (Leonardo Ulloa) is a big guy and he makes great runs and as a striker I know where I'd want the ball to be. I put it in that area and it was nice to see him get his head on it.
Our boss Oscar Garcia is normally pretty cool, calm and collected on the touchline and he normally keeps his emotions in check. To see him going nuts with all the staff and players was great. That's just how you want a season to end.
After the game we enjoyed the moment. Under those circumstances it was amazing and the boys were all buzzing on the coach home, it was really rocking.
But we know this is only the first step of the play-offs. We've got two massive semi-final games against Derby to focus on. That buzz is still there with us though and we're hoping we can take that with us into the game on Thursday.
We've lost both games against them this season and we know what a good team they are and how well they attack and keep that ball. We've just got to work to try and counteract that and use our strengths. It's not going to be easy but it's two one-off games and league form goes out the window.
Hopefully we can take that positive momentum that we built on Saturday in to these games.
GUY BRANSTON
What a season we had in League Two. There were so many games where we didn't have a clue who would win. The difference in points between the top and bottom sides was so short - just 10 points separated Dagenham and Redbridge in ninth and the relegated Bristol Rovers in 23rd - this opened up the door for an exciting league, it's been fantastic.
It's going to really tough for the teams that went down, Bristol Rovers and Torquay - only one of them can be automatically promoted.
Torquay are a League Two/Conference club. Whereas, Bristol are an unbelievably big club, you can't imagine them in League Two let alone out of the Football League. That just show the effect a bad squad of lads can have. They've obviously got the wrong sort players there and the mentality must be wrong. That they haven't been able to see the problems in the dressing room and amongst the squad has amazed me.
Those two will now need a clean slate, to save money and work out how they're going to get back in the mix. There are going to be tough seasons ahead for these two.
Luton have been away from the Football League for five years and as such a big club it's going to be great to have them back. Their fan base is huge and I think they'll do really well this time around because they've sorted out the financial problems.
When it comes to the play-offs, I said Southend and Burton would be there abouts at the start of the season. It's expected at Fleetwood because they have a massive budget, whereas York City have been a real surprise.
Well done to them because they're on a really small budget with lads who want to do well. I'd love to see them go up because they're a fantastic club and Yorkshire is a real football hotbed.
Don't forget download FL72 Weekly every THURSDAY morning from skysports.com