Leyton Orient return to court to challenge Olympic Stadium bidding process
Leyton Orient have asked a judge to review the process which made West Ham preferred bidder for the Olympic Stadium.
Last Updated: 06/03/13 3:27pm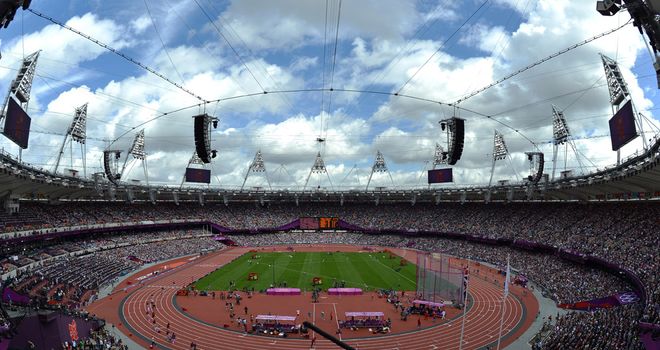 The Premier League club's co-owner David Gold said this week he expects the move to be officially confirmed on March 16 - more than three months after the bidding process went West Ham's way.
Orient's chairman Barry Hearn has long argued the decision threatens his club's existence and wants the possibility of a groundshare to be fully considered.
And he told Sky Sports News the London Legacy Development Corporation had breached its own rules by failing to explore that option.
"We believe the bidding process is fundamentally flawed," he said, "and that LLDC have not followed their own rules. All parties involved signed up to the principle of 'teaming' and yet our bid has been turned down without consideration of a groundshare with West Ham.
"Our legal advice is very convinced this is a fundamental flaw, and I'm afraid the saga looks set to continue.
"We believe it's a point of law, but our overriding principle is that we're keen on sharing the stadium simply because if we don't, the additional competition will put Leyton Orient out of business.
"Do we want to share with West Ham? Ideally, we wouldn't like West Ham there to start with. But taking that as a gimme - and I think the Mayor's office have made it clear from day one West Ham are their preferred bidder - we'd like to enter into the teaming process.
"I don't see any harm to West Ham or anyone else to allow a small community club like Leyton Orient to benefit from the Olympic legacy by surviving in the future."
Challenged on whether he would accept compensation from West Ham, Hearn said: "I'm not interested in the money, I'm interested in us having a dream as well. I'm looking for a real legacy, not just a legacy in words where we fall over backwards to help a multi-million pound company like West Ham United."
A statement from the LLDC in response to Orient's decision read: "We believe that our processes have been robust, fair and transparent and that the challenge is misconceived."