Exciting times
Ritchie Humphreys discusses a change of scenery and Chesterfield's flying start in League Two.
Last Updated: 19/12/13 4:52pm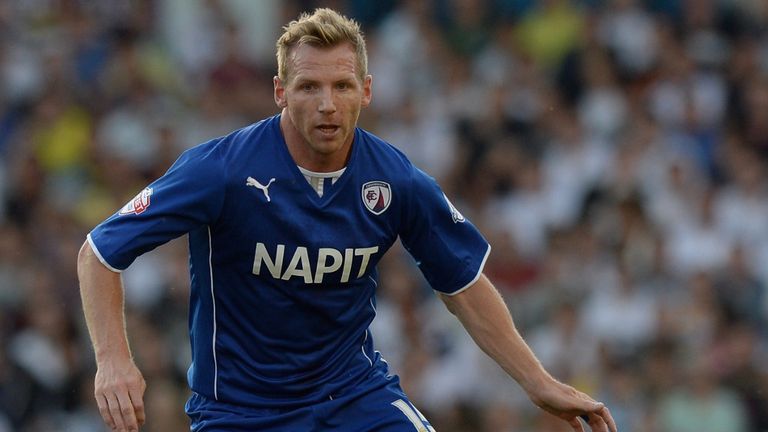 The new season is upon us, with the 2013/14 campaign starting to take shape.
Here at Sky Sports we will look to take you to the very heart of the Football League over the coming months, with our Spotlight features intended to give you a greater insight into the clubs and players that keep us on the edge of our seats.
We hope to bring you the views and thoughts of a representative from each of the 72 teams over the course of the season, with those involved asked to give their take on the division they compete in, the club that pays their wages and those we should all be keeping an eye on.
Chesterfield's Ritchie Humphreys is next into the hot-seat, with the versatile 35-year-old taking time out to discuss a flying start and a change of scenery with Chris Burton.
It's all gone very well so far - that is down to the quality of the players, but momentum and a feel-good factor is crucial as well isn't it?
Absolutely. A good away win on the first day of the season at a tough place to go like Bury - we weren't quite at in the first half-an-hour and we could have gone in at half-time maybe one or two goals under - but I think winning that game away from home and then going into a good home game, and the recruitment of the players that have come into the club this summer has been fantastic, there is a real feel-good factor. They charmed myself with the football the manager wants us to play and everyone has really bought into it. The players, the supporters, are really enjoying the way we play. At times that hasn't gone for us, but we've adapted to a slightly different style and still got the results. Things go for you sometimes when you're on a really good run, and that's certainly been the case for us so far.
You're there to be shot at now, though, and it becomes tougher to maintain this kind of start doesn't it the longer it goes on and expectations start to rise?
Of course it does, but a lot of us have been in football long enough to know that you aren't going to win every game between now and the end of the season - that's just football. There will be a time when we aren't performing as a team, and that's the time when you have got to work as a group and you have to remember why you've won games already - all of those qualities have to come to the fore when you're having a bad time. We have got winners in the dressing room, we've got the right characters, but when there are some bad times - which there will be throughout the season - we have got the right mentality, with the manager and the staff, to pick the players up and get us back on course. But that hasn't happened yet and we're focusing on the next game. Every next game is a big game.
While you want to keep your feet on the ground, you wouldn't be human would you if you didn't start to think about what could happen?
Totally. I have been in football long enough to know you have to enjoy your wins. Sometimes when you are on a bad run they can be hard to come by and it is almost a relief when you get a point. So celebrating your wins is vital, and enjoying how you won games and dominating possession - which has happened in most games that we've played in. We have put ourselves at the top of the league, it's what we wanted to do. It wasn't that we were going to go steady and not push until the end of the season, right from the off it was 'We want to get this club promoted and to do that you have got to be in the top three'. We are top at the moment and hopefully we can continue that.
Has extra emphasis been placed on keeping things tight, with only three goals conceded so far?
You don't want to concede and you want to score at the other end, it's the real basics of football. What helps with that is the way we play and the possession we have. We try to limit teams to a few chances and fight for second balls, because anything can happen then - deflections, ricochets and someone gets put through. Don't get me wrong, our goalkeeper has been outstanding as well and the lads at the back have made some last-ditch tackles and the opposition have missed chances, so we could have conceded more. We don't shy away from that and we look at that, we look at the video analysis of what we could do better as a team - leading from the front, how we can defend from there and make sure it's not the back five that do all the defending.
You've been spreading the goals around at the other end as well, which is a useful habit to get into isn't it?
Absolutely. I think to get promoted you are going to have to have one or two players that get the majority of the goals, but so far it's been spread out quite well. At the beginning, in the first month of the season, Gary Roberts got Player of the Month for his goals and his assists and the manager got Manager of the Month. It's been a great start, there is a real feel-good factor, but the staff are keeping us grounded because there is always a big game - which is the next one.
And for you, nice to get off the mark at the weekend?
I don't get too many. I have played in various positions since I signed, I played at left-back on Saturday. The ground just opened up for me and I made a run into the box and found myself unmarked. I got picked out by Eoin Doyle and I was pleased to get a goal the day after my son had been born. That settled a real personal achievement but, more importantly, the three points away at Oxford, which is a tough place to go to, gave us another win.
How has it been so far for you? Was it a bit odd to start afresh after 12 years at Hartlepool?
It is strange for any player that has been at a club for as long as I had been at Hartlepool. But it's football, it's another dressing room, another manager to try and impress and the lads in the dressing room - you have got to get the respect of your team-mates first and foremost. It's been good for myself, it's been a new challenge and I might not have too many years left so I have made the most of every game and every training session.
You can be rightly proud of what you achieved at Hartlepool can't you, but now it's time to move on?
I had an amazing time at Hartlepool and it's such a big part of my life. I will never forget that, and my testimonial there. I lived up in the North East for a long period of time, so it was a big part of my life and I won't ever forget that. I have got some really good friends in the North East, but you have got to move on. You are a professional footballer, you have got a job and you have got to provide for your family. It's been great for me, it's a new challenge. I got myself into the first team and it's my job now to try and keep myself in there.
What convinced you that Chesterfield were the right club for you?
I was one of many, many players out of contract in the summer. Every year now there are lads that are out of contract and don't get fixed up, so to get something here at Chesterfield was fantastic for myself. Nobody knows if they are going to get fixed up, but for me at my age it could be a really good experienced head in the changing rooms to set the right example to the younger players and play my part as well. I have got myself in the team and I want to stay there.
Chesterfield finished 8th last season, but clubs in League Two always have a turnover of players don't they so you never know quite what to expect?
No, you don't. But I think you could tell from the intentions that the chairman, the manager and the chief exec set out and the type of players they brought in - Gary Roberts has been outstanding in League One and Two for many seasons now, signing Gary McSheffrey, Eoin Doyle, Sammy Morsy Jimmy Ryan, you can go on. There is a real positive influx of players that have come in and the one common ground that they have from what I have seen, and this is my opinion, is that they are winners.
And for you, new arrival off the field and new challenges on it - lots to look forward to?
Yeah, absolutely. I had the birth of my son on Friday and the game at the weekend. My wife was telling me to go and play - you want to be there for your family, but she wanted me to go and play. Then it was my daughter's birthday on Tuesday so it's been a really hectic few days, but you have got to enjoy these times.