Paolo Di Canio criticises 'hostile environment' at Swindon
Swindon manager Paolo Di Canio feels he is working in a "hostile environment" at the League One club.
Last Updated: 14/12/12 5:29pm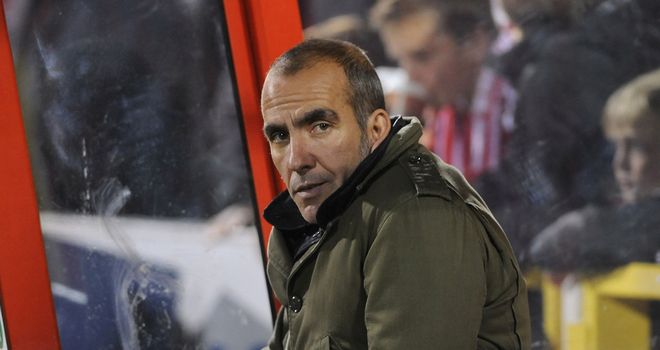 The departure of Robins chairman Jeremy Wray, who was ousted by majority shareholder Andrew Black and replaced by Sir William Patey, sparked speculation that Di Canio would follow him out of the County Ground.
But the controversial Italian has remained in his post and helped Swindon maintain their play-off bid.
Ahead of their trip to Oldham on Saturday, he insists he only stayed at the Wiltshire club to fulfil what he describes as a "promise" to their fans.
"I had the chance to leave two months ago. I heard something, that there was a chance. I presumed that I should leave two months ago. I presumed I had the chance to," he told the Swindon Advertiser.
"It didn't happen because obviously I concentrated straight away and I thought I had to win here.
"I want to finish my job here. If we go to the Championship this year then I have done my job already and therefore the future changes.
"If someone decided to sack me it is a completely different situation. Otherwise I want to finish my job here and get the expectation."
He added: "If I find a hostile environment I become more nasty and more focused because I don't distract myself from my players because they are the main part.
"Not my staff and my players - they are fantastic and you see in the way we play - but there is obviously a hostile environment, for personal interests.
"That is rubbish and something that will destroy this club for sure."