Scottish football: Rangers' opening match of season against Hearts live on Sky Sports
Last Updated: 04/07/14 4:09pm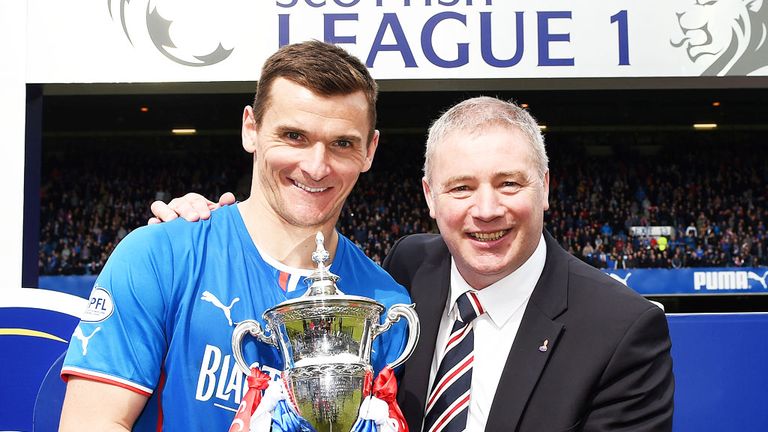 Rangers' clash with Hearts on the opening day of next season will kick-off Sky Sports' live coverage of Scottish football on Sunday, August 10.
The sides have not met since Rangers were consigned to liquidation following financial irregularities in the summer of 2012.
Since then they have strolled to the title in Leagues Two and One, while Hearts travelled in the opposite direction from the Premiership after failing to overcome a 15-point deduction for entering administration last season.
Defending champions Celtic make their first appearance in front of the cameras at St Johnstone on August 13 before returning to Celtic Park three days later where they will unveil their championship flag prior to hosting Dundee United.
August 17 will see a televised Championship Edinburgh derby as Hearts host rivals Hibernian with both clubs seeking a quick return to the Scottish top flight.
Sky Sports managing director Barney Francis said: "We're delighted to kick off our Scottish football season with Rangers' and Celtic's opening matches, and the first Edinburgh derby.
"The SPFL is a vital part of our unrivalled football schedule and this season we'll also bring Scotland's UEFA EURO 2016 qualifiers and Celtic's Champions League campaign.
"This is Sky's 24th year covering Scottish football and we're really looking forward to bringing our viewers more of the best matches this season."
Live SPFL schedule:
August 10: Rangers v Hearts
August 13: St Johnstone v Celtic
August 16: Celtic v Dundee United
August 17 Hearts v Hibernian