Brown's Gers plan gathers pace
John Brown claims to have the support of Barry Ferguson in his bid to help supporters gain control of newco Rangers.
Last Updated: 18/07/12 10:08am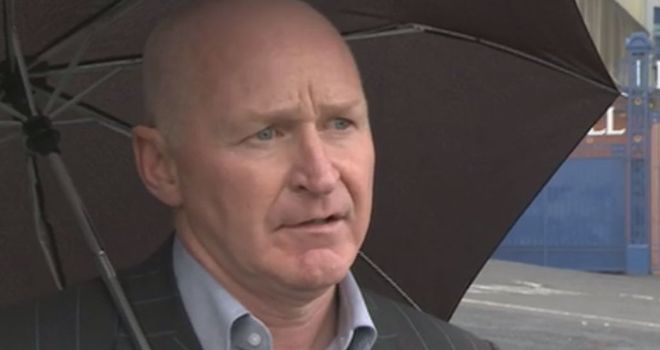 John Brown claims to have the support of Barry Ferguson in his bid to help supporters gain control of newco Rangers, and expects other famous names to get behind his plans.
Brown, who coached Ferguson in the midfielder's early days at Ibrox, has been talking to the Blackpool player in recent days about his ongoing plans to front a consortium to buy out Sevco Scotland.
Brown, a key member of Rangers' nine-in-a-row team in the 1990s, admits it is a huge boost to have the backing of such a fans' favourite and former Rangers captain.
"I have spoken to Barry and he has promised me that he is 100 per cent behind me," said Brown.
"He is out of the country just now on a pre-season training trip, but there is no doubting his commitment and his enthusiasm for my deal.
"Because of his pre-season training and playing commitments it will be a couple of weeks or so before we will be able to sit down together and hammer out the details.
"But I can assure everyone how excited Barry is to be given this opportunity to do something for the club he loves."
Serious
Brown, who gave up his job as an Ibrox scout to lead takeover attempts after Charles Green's company bought Rangers' assets for £5.5million, is putting in £40,000 of his own money to kick off the fans' fund.
He said: "It is only right that as I have been out in the front of this, I should put my own money in too. I'm not a wealthy guy and £40,000 represents a huge commitment for me.
"But if it helps Rangers supporters to see how serious this fans' buyout plan that I have is, then it will be money well spent.
"Getting Barry on board at this early stage is a huge boost for our plans and I believe that he is just the first of many other well-known names from Rangers' past who will be happy to back this commitment to the club's future.
"I will be speaking to other famous names from Rangers past in the next day or two and asking for their commitment and I'm confident that now they know Barry Ferguson is on board, they will all want to join the Rangers For Change movement.
"One of the reasons why Barry was so keen to give me his 100% commitment is that he came right through the ranks at Ibrox to go on to become captain and he is upset at seeing the same dreams he had and which so many of the youngsters at Ibrox have also had, being destroyed by what has happened to the club."
Brown's next move will be to set up a bank account which supporters can put their cash into to help the takeover plans.
He added: "I have meetings with bankers and lawyers arranged for the next two days and believe that by the end of the week I will be able to release further details of how Rangers For Change will work."