Dundee United retract their appeal over manager Jackie McNamara's touchline ban
Dundee United have decided to retract their appeal over manager Jackie McNamara's touchline ban from the SFA.
Last Updated: 17/04/14 11:25pm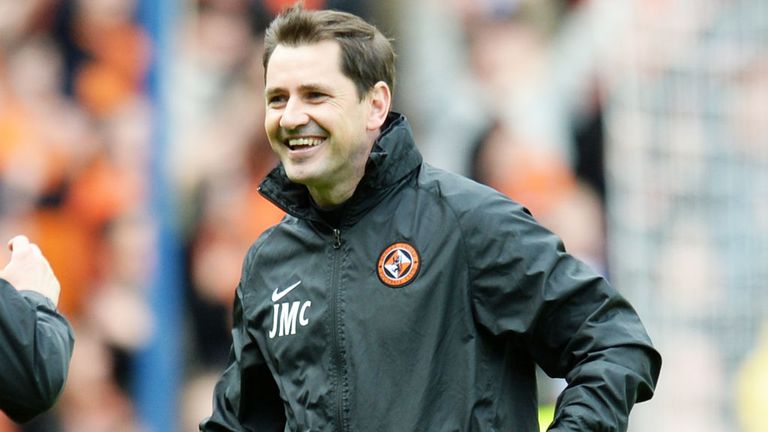 McNamara was handed a three-match ban last week, with two further games suspended until the end of next season, following an altercation with St Johnstone boss Tommy Wright in March.
The punishment was decided just 48 hours before Dundee United's Scottish Cup semi-final clash against League One Rangers at Ibrox.
McNamara appealed the penalty on the eve of the cup tie and was at the side of the pitch as his young side won 3-1 to progress to May's final with St Johnstone at Celtic Park.
And with no definite date set for the appeal, United have opted to accept the punishment, which means McNamara will have to watch the Scottish Premiership games against St Johnstone, Motherwell and Inverness Caley.
A statement from Dundee United read: "Following telephone advice to the Scottish FA earlier this week, Dundee United has now withdrawn its appeal relating to the ruling of the Disciplinary Hearing in respect of Manager Jackie McNamara.
"The ruling found Jackie McNamara to be in breach of Disciplinary Rule 203 in respect of misconduct at the match v St Johnstone on 12 March 2014 and resulted in a five-match suspension (three of which apply immediately and two suspended until end of season 2015) being issued.
"We firmly believe that there are solid grounds to appeal the sentence imposed. However having given the matter further thought and as no hearing date has yet been fixed, we now believe it is in the best interests of all concerned to accept the sentence imposed and withdraw the appeal."