La Liga transfer review: Spanish spending on the slide in January
By Guillem Balague, Nick Wright and Adam Smith
Last Updated: 13/02/17 2:24pm
Guillem Balague assesses the spending stats in Spain and why we can expect a busier summer...
European clubs have splashed the cash this season. A record 3.9bn euros has been spent on new players by teams in the top five leagues in 2016/17. That's 14 per cent up on last season.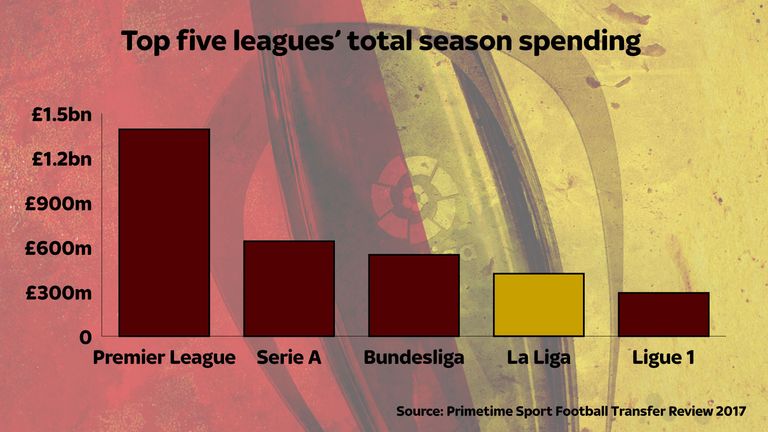 While the Premier League has led the way, spending 1.5bn euros on new players, clubs in Germany, Italy, France and Spain have invested large sums too. The 495m euros spent by Spanish clubs was the third most they've ever spent in one season.
The majority of those totals was fuelled by summer signings. There was the world record £89m transfer fee Manchester United paid for Paul Pogba, while Juventus paid £75m for Gonzalo Higuain. Bayern Munich spent big sums on Renato Sanches and Mats Hummels, Paris St-Germain brought in Jese Rodriguez from Real Madrid and Barcelona paid 123m euros for the likes of Paco Alcacer and Andre Gomes, among others.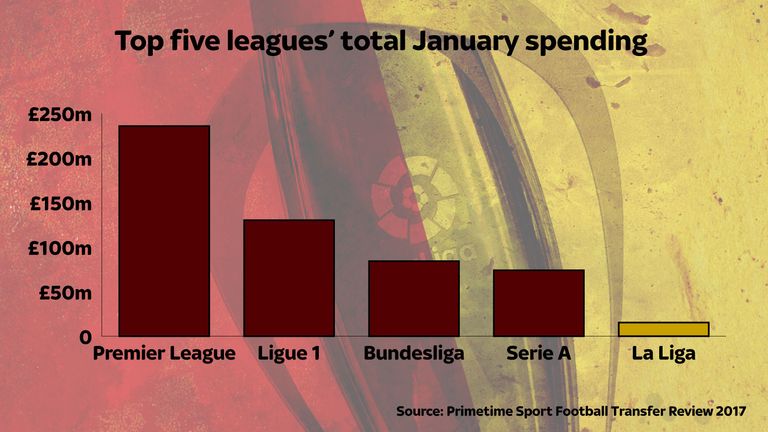 However, spending was also on the up in most places in January. The Premier League saw a 10 per cent rise in transfer fees paid in January 2017 compared to January 2016. Serie A clubs spent 12 per cent more this winter than last winter. In Germany and France there were huge year-on-year increases in transfer outlay.
The only major European league not to increase its annual spending in January was La Liga. Clubs in Spain paid just 18m euros in transfer fees last month. That's nothing compared to the rest of the top five leagues and 33 per cent down on Spanish spending in January 2016. So what's going on?
Well, one key reason was that two of Spain's biggest clubs - Real Madrid and Atletico Madrid - were banned from doing any deals in this transfer window. Those sanctions were imposed by FIFA after both clubs were deemed to have breached rules over the transfer of foreign players under the age of 18.
Barcelona, meanwhile, haven't signed a player in January for the past six seasons in a row. But some Spanish clubs did spend money and bring a few players in last month.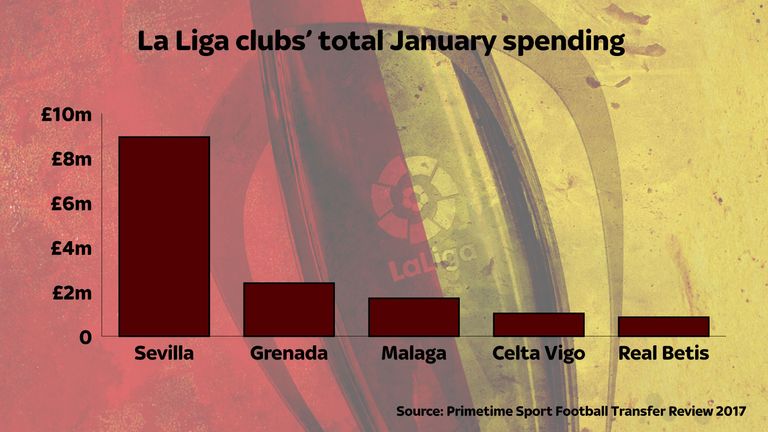 Sevilla were the top spenders - but their 10m euros total is relatively modest. The most expensive player they bought was Walter Montoya for 5.5m euros. Compare that to the 40m euros PSG spent on Julian Draxler, or the £25m Marseille paid for Dimitri Payet, who Sevilla did consider at one point, and it highlights how much January spending in La Liga is way down on other leagues.
Interestingly, just five La Liga teams paid for new players in January. So what convinced the other teams - including Barcelona - to keep their money in their pocket? Perhaps it comes down to the quality of player available mid-season.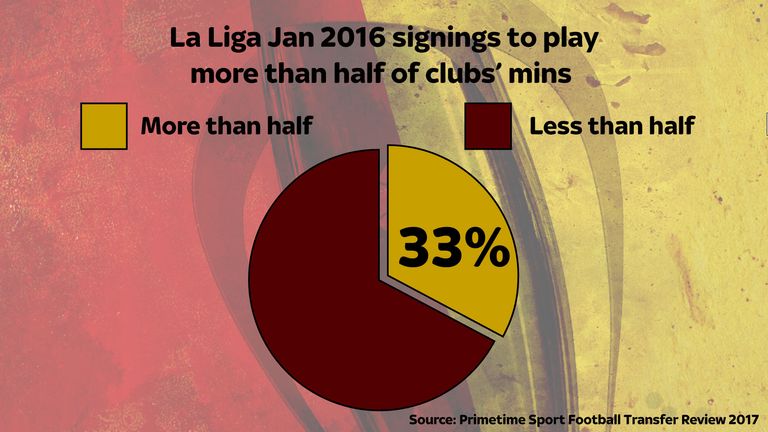 The Football Transfer Review by Prime Time Sport, in collaboration with Soccerex, has examined the amount of game time clubs in Europe's top five leagues have given to signings they made in January 2016. As this chart shows, very few of those players go on to become key players in their new teams.
In fact, just 15 out of 45 players signed last January played more than half of the minutes available in the second half of last season. This season, just 12 of those players remain in those teams.
The other side of the coin is the amount of money that was spent on La Liga players in January. This was a transfer window in which La Liga teams held on to their top talent. They have become stronger financially, more secure, and there was not the same need to sell players as there has been for some teams in the past. Without the sale of this man, Pato, by Villarreal to China, there would have been very little incoming money at all.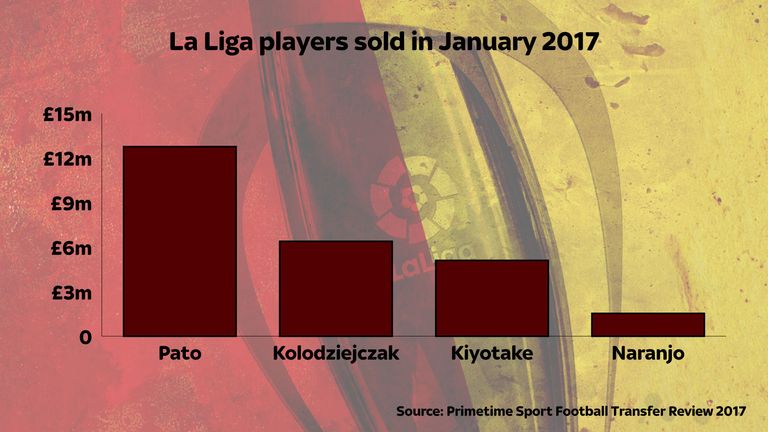 Just 33m euros was spent on La Liga players in January. The Premier League, Bundesliga, Ligue 1 and Serie A all received more. Fifty-four per cent of that total was paid by Chinese Super League club Tianjin Quanjian for Pato, as you can see from this pie chart.
So if Spanish clubs aren't buying or selling players mid-season, there is an added emphasis on homegrown talent to provide cover and supplement squads. Players such as Athletic Bilbao's Inaki Williams.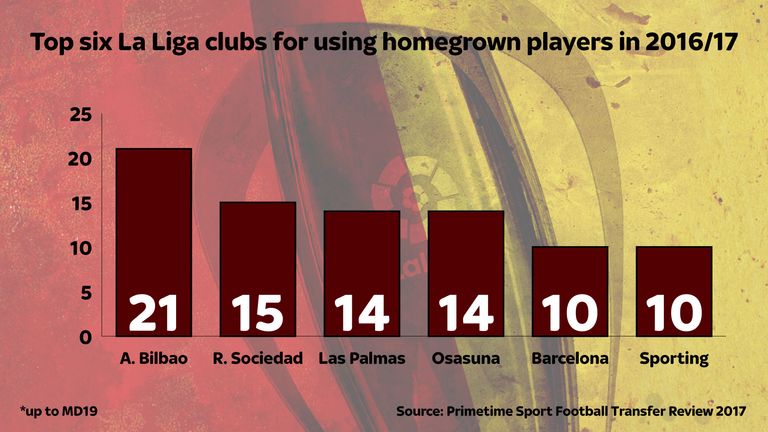 Athletic Bilbao, with their Basque-only policy, have used more homegrown players than any other Spanish team this season. 21 players, in fact.
But they are not the only ones promoting academy products. Real Sociedad and Las Palmas have also done it, and the same can be said of Espanyol, who have just signed up youth graduates Marc Roca, Marc Navarro, Melendo and Aaron.
Interestingly, the number of homegrown players used by Barcelona has fallen from 12 to 10 this season. La Masia is not producing the quantity of talent it once did.
That means Barcelona will have to invest again in players from outside the club in the summer to step up another level. And for now that summer window remains the key time for transfers for Spanish clubs.