Real Madrid v Barcelona: Guillem Balague's Clasico preview
Last Updated: 23/04/17 6:48pm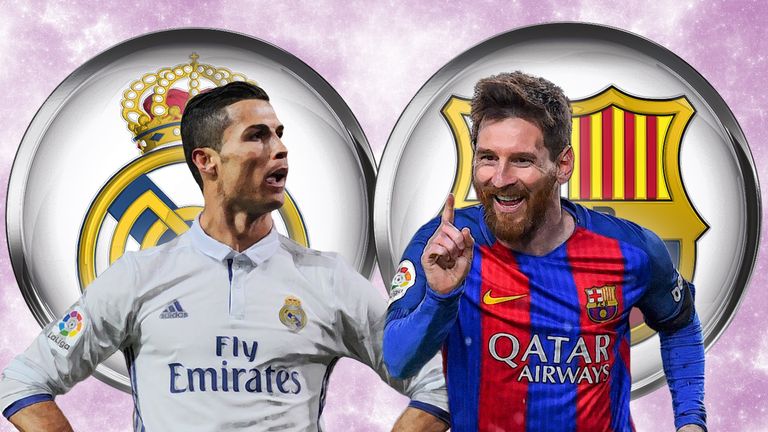 Guillem Balague gives his in-depth verdict on Sunday's Clasico in La Liga between Real Madrid and Barcelona.
The Sky Sports Spanish football expert runs through fives key areas ahead of the clash, which is live on Sky Sports 1 from 7.30pm.
Real sit three points ahead of their rivals with a game in hand. Will Barcelona claw the title back from their grasp?
Full-backs - a strength and a weakness
Barcelona must be regretting the day they sold Dani Alves to Juventus because he would certainly walk into this Barca side at the moment. Watching his performance after letting him go for free must have been painful and is compounded by the fact that this is precisely the position where Barcelona have been found wanting for most of the season.
Aleix Vidal, after a shaky start, looked to be the solution, before inconveniently breaking his leg and leaving Barca woefully short in that department.
Sergi Roberto was drafted in from midfield into the position, and while he had his 15 minutes of fame in the return leg of the Champions League against PSG, he is clearly not up to the task of replacing Alves long term in the right-back position. Jordi Alba played against Real Sociedad at the weekend and also in the second leg against Juventus, but he is a shadow of the player that he was. Maybe that is because he does not feel he has the complete trust of his coach.
Real Madrid, on the other hand, have Marcelo, who is unquestionably one of their trump cards, particularly going forward. Just ask Bayern Munich. He is having a very good season.
Dani Carvajal is also impressive on the right, both at the back and going forward, and everything looks organised.
Barcelona don't seem to know what to do at the back, and as a result they are neither strong in their defending nor particularly dangerous going forward down the wings. It's time to go shopping for a right-back with Arsenal's Hector Bellerin and Valencia's Joao Cancelo very much on their radar.
What is Barca's defensive plan?
Barcelona function poorer when they defend close to the box. They have always performed better when they defend high but on many occasions this season they have not been able to apply the sort of pressure that can allow them to play this type of game.
Luis Enrique's response was to change from a 4-3-3 to a 3-4-3 with a view to re-activate the side and make them defend better, higher up the pitch, as well as giving new impetus to a side that was making far too many errors. Either way, it seems Barcelona are still managing to concede at least a goal a game.
Against Valencia, in a game that Barcelona won 4-2, Luis Enrique was forced to abandon his three at the back plan because they were being taken apart on the right flank, and brought on Sergi Roberto. Without Sergio Busquets, Barca look dreadful, not just in terms of creating, but also defensively. While Gerard Pique and Samuel Umtiti are performing well enough, it is down the flanks, yet again, where they have real problems.
I am told that after the Turin debacle, key players like Lionel Messi, Andres Iniesta and Javier Mascherano met up with the coaches to discuss the use of 3-4-3 formation, and let it be known that they did not like it.
Their reasoning was that it led to too much football going through the centre and not enough width, which affected the amount of space afforded to Messi and consequently the level of his effectiveness. I do not envisage the 3-4-3 making another appearance this season, but with Luis Enrique you just never know.
Madrid belief is high, Barca's is low
Against Juventus, Barcelona huffed and puffed and got nowhere near to blowing down the Italian's well-constructed home. Any occasional shining lights were individual cameos rather than the result of collective team work. Everyone knew in their hearts that this Juventus side were never going to roll over like Paris Saint-Germain had.
This is a Barcelona side that has been losing the collective work ethic more and more as the season has progressed and the PSG game merely flattered to deceive. Juventus was always going to be a different plate of spaghetti.
Offensively if you block Busquets you effectively stop them at the start of their attack. Messi's space is always killed by few defenders and he does not always find the right way to do harm, as it happened against Juve. You then stick two men around Neymar and Roberto's your uncle; job done. At Barcelona you sense the end of an era and it makes total sense that Luis Enrique is leaving.
Ivan Rakitic and Iniesta are the sort of players that thrive on confidence and they are having the sort of season that suggests they do not have much faith in the leadership. Either that or they seem void of the kind of energy necessary to make an impact. Too many players are about to be 30 or are 30-plus.
Denis Suarez, I can't help but feel, has also been enormously disappointing this season. As has Arda Turan, who never really kick-started his career following an enforced rest when he joined from Atletico.
Barca's strength and get out of jail card has always been the front three, but watching Messi drop deeper and deeper back is a constant reminder that this is a team not firing on all cylinders.
Andre Gomes has been a huge disappointment and is frankly not good enough to do the job he was bought for. What is worse is that the players know it and that is also going to create problems, not least because Luis Enrique, stubborn as he is, will not admit it. But he is not the only problem.
Madrid confidence makes them walk onto the pitch thinking they will not be beaten. Against Napoli, Bayern, Villarreal and Las Palmas they showed they are side that are never beaten, but after giving the rivals plenty of chances to beat them. Real Madrid have won 10 points this season from losing positions, more than any other club in La Liga. With the exception of the one-off freak match that was Barcelona versus PSG, you have never really sensed that this season with Barca.
You certainly sense that confidence at Real Madrid would suggest they feel they cannot lose this season. Once again the Gods seem to be shining on them. To say they got the rub of the green against Bayern Munich over both legs is an understatement, although it does indicate a mentality that refuses to accept defeat. With regards to the refereeing in the Bayern game, it is true two Cristiano Ronaldo goals were offside and the Arturo Vidal second yellow wasn't. But, and most forget this, he deserved the second earlier, the Arjen Robben penalty was dubious and Bayern's second goal was offside.
The difference between coaches
The main difference is that while Zidane is going nowhere, Luis Enrique is just, well, going.
Zidane's main role would seem to be just to ensure that everyone is happy, getting them to their full potential and the players do the rest. Hands on is not the phrase that immediately springs to mind when analysing the Frenchman's approach, but he does seem to have the knack of keeping his players as happy as Larry.
There doesn't seem to be the same political intrigue coming out of the Bernabeu that there was during the times of Jose Mourinho and Rafael Benitez, and while he obviously knows what his best team is, he has also managed to get together probably the strongest squad seen at the Bernabeu for many a year.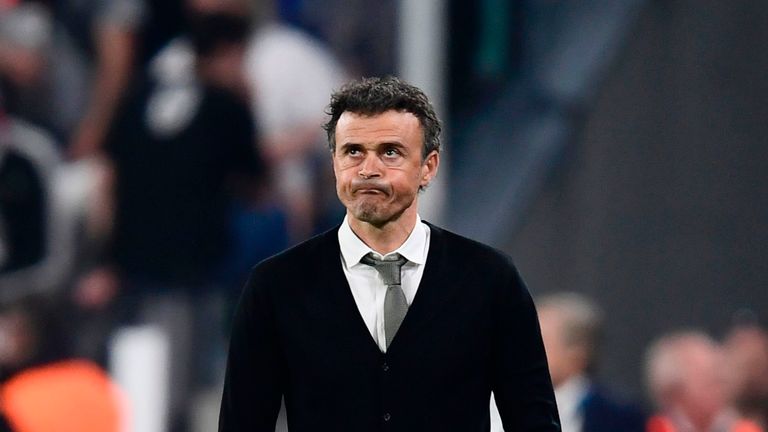 Luis Enrique loves to put his fingerprints over every part of the game, unfortunately not always to best effect. The players he brought in or inherited have not always been utilised to the best of their abilities, while others have disappointed.
His reliance on the front three has on many occasions got him and his side out of the sticky stuff, but now it could be what condemns his Barcelona side to defeat in the league simply because so many of the others rely on them at the expense of their own responsibilities.
With only a very winnable Copa del Rey and a glimmer of hope in La Liga, a death or glory performance leading to a win at the Bernabeu and the scramble for the finishing line that would then ensue would be his saving grace. I don't see it happening, and what's more I don't believe the Barcelona players believe it either. Nor do I believe they trust in Luis Enrique, although the fact he is going means they aren't about to start kicking up a fuss.
Had he decided to stay, things could well have been different and I'm not sure that what Luis Enrique is doing is actually going to do Juan Carlos Unzue - one of his possible successors - any favours either.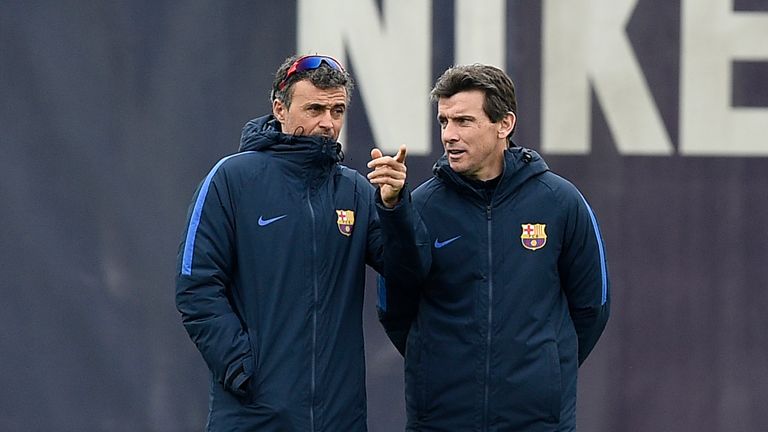 Unzue has always been the successor of choice for Luis Enrique, but the feeling of many at the Camp Nou may well be that if his appointment means more of the same, then the chances are that the players will not be on board with it. The club may decide that the best option would be to look to a completely new broom... like Ernesto Valverde.
The two benches
You always sense that Luis Enrique has chosen his preferred starting side in the knowledge that he was leaving, and that the last thing he wanted was a problem with his first-team squad. Lack of competition meant that everyone knew who the first XI were and performances went down as a result.
At Real Madrid, Zidane seems to be using one team for the league and another for the Champions league and whether by luck or judgement or perhaps a combination of both, it has worked perfectly for him. Everybody's happy, everyone feels important.
The consequence of this is that there is no comparison in the different strength of the two benches, with Real Madrid far and away the better. This is probably one of the strongest benches I can ever remember at Madrid, so much so that Zidane can rotate before European ties safe in the knowledge that the replacements will do a job for him.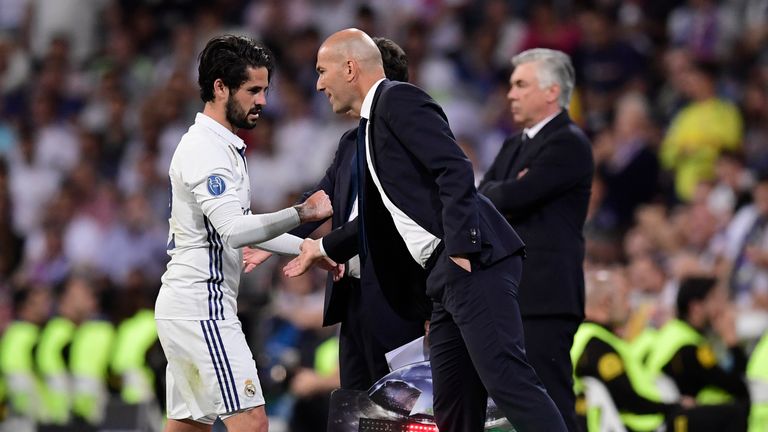 Effectively it was largely a second-string side that won at Sporting Gijon and Zidane's courage in trusting his bench has made all the difference. Isco is finally coming up to scratch while Alvaro Morata looks set for a huge money move should he feel he wants to have regular football. Karim Benzema, Ronaldo and Gareth Bale - who has started training again - were not even put on the bench for Gijon game, which was Zidane's way of telling their replacements that he trusted them to fill the biggest boots in the business and not to be found wanting.
As mentioned earlier, but worth re-iterating, Luis Enrique has had the likes of Jordi Alba languishing on the bench for much of the season and the international full-back's body language is palpable. Pace Alcacer is a fine player but will never get in above the Barca front three on merit, while Arda Turan has the appearance and attitude of a man looking for the exit door.
The truth is that there is no comparison between the two benches, and the lack of quality on the Barca bench is effectively an indictment of the La Masia Academy that so many people rave about. It has in fact produced so little of note recently. But that is another story.