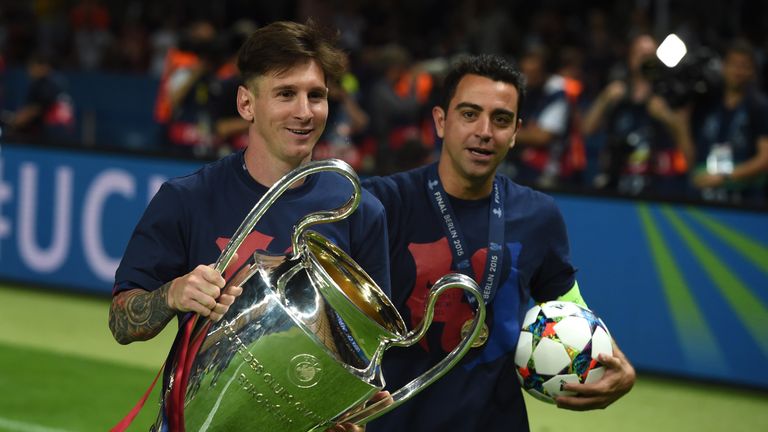 Barcelona legend Xavi says he cannot see Lionel Messi leaving the Nou Camp.
Xavi is Barca's all-time record appearance holder and was the heartbeat of the club's midfield from 1998-2015, spending nine years in the first team alongside Messi, who made his debut in 2004.
"I'm in contact with Messi and I think he's happy and satisfied," Xavi, who now plays for Al Sadd in Qatar, told radio station Cope on Friday.
"He knows Barcelona is the best club in the world for him and I can't see him in any other club."
Messi is Barcelona's all-time leading scorer but has yet to commit to an extension on his current contract, which runs out in 2018.
"I haven't spoken to him about his new contract but if I was to bet, I wouldn't expect Messi to go to another club," added Xavi.
"He could get more money elsewhere but I don't think he is interested in just money, he is more concerned about stability."
Barcelona trail arch rivals Real Madrid by six points following a shaky display in last week's 1-1 draw with Real Sociedad and could drop nine points behind their arch rivals when they meet in El Clasico on Saturday.
"Perhaps Barca are under more pressure because of the points gap but Clasicos are unique games, you can be 20 points behind and have a brilliant game or vice versa. The display at Real Sociedad means nothing," says Xavi.
Barcelona have an almost full strength squad available against Real and welcome back captain Andres Iniesta after six weeks out with a knee injury.
Xavi believes the return of his former midfield partner will be pivotal to Barca's chances of winning the game.
"Iniesta is a transcendent player for Barcelona," he added. "They say that now the team is lacking control and thought. Well, Iniesta will bring that back."