Barcelona star Lionel Messi has already turned his attention to next season
Barcelona star Lionel Messi has already switched his sights to mounting a successful campaign next term.
Last Updated: 20/05/13 2:59pm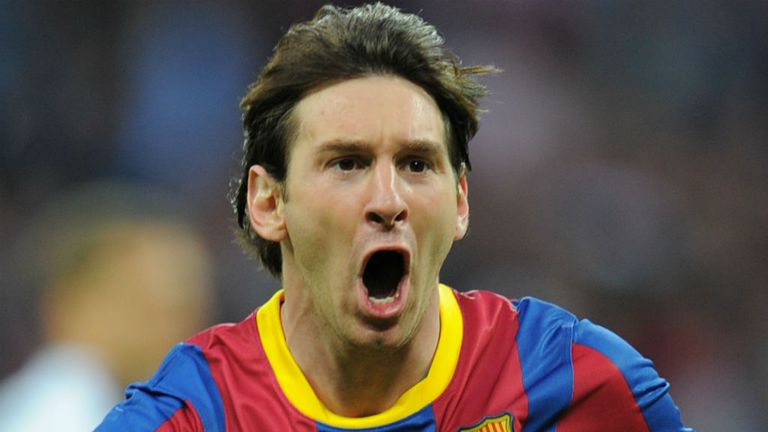 Barca clinched their fourth La Liga title in five years last weekend when nearest challengers Real Madrid failed to beat Espanyol, and they were presented with the trophy following Sunday night's win over Real Valladolid at the Nou Camp.
That was the 22nd time Barca have been crowned Spanish champions and capped a superb league campaign which could yet see them reach the 100-point mark for the first time in their history, needing to win their final two games to reach the milestone.
However, things were not so good in the other competitions, with arch rivals Madrid beating Barca in the Spanish Supercopa and the Copa del Rey semi-finals, while Tito Vilanova's men were humbled 7-0 on aggregate by Bayern Munich in the Champions League semi-finals.
With that European final being played at Wembley this weekend, the wounds of that crushing defeat are still raw for Barca, but Messi is keen to move on.
Speaking after arriving in Qatar for promotional events, the Argentina ace said: "Winning the league was very good, although the objective is always to win everything.
"There's no need to dwell any more on what happened against Bayern, this season is over and we need to prepare to return at our best next season."
Messi, who will not play again this season due to injury, also reiterated his commitment to the Nou Camp outfit, saying: "I've never thought about playing at any other club than Barca."
While Messi seems unlikely to be going anywhere any time soon, the same cannot be said of some of his team-mates at Barca with speculation rife about the futures of a number of them.
There has also been media suggestions that coach Tito Vilanova might not in charge next season as he continues his fight against cancer, although the club have played down those down.
The 44-year-old underwent a second operation on his parotid gland in December and spent two months in New York at the start of the year undergoing radiotherapy and chemotherapy treatment.
He also returned to the United States earlier this month for follow-up tests and is back in New York this week for treatment which was scheduled for this summer but was brought forward due to Barca wrapping up the league with three games to spare.
Vilanova, who replaced Pep Guardiola last season, thanked players and fans at Barca's trophy presentation, but his assistant Jordi Roura insisted there was nothing cryptic about his comments or any suggestion it might have been some sort of farewell to the club.
Roura told reporters: "There's no need to search for any more interpretation or go looking for something where there isn't anything, he only wanted to thank the players, the group for the good season they've had."
Sporting director Andoni Zubizarreta added: "I don't know who's said Tito is not going to be the coach."
As well as possible exits, Barca have also been linked with a number of new faces for the coming season, including Brazil star Neymar.
Brazil coach Luiz Filipe Scolari yesterday claimed Barca were in pole position to land the 21-year-old, although Zubizarreta was giving little away when quizzed on the subject himself.
He told Canal Plus: "Scolari knows more than me then. We will comment on new signings when they happen."