Champions League: Barcelona's Pedro says Man City clash is biggest game of season so far
Barcelona star Pedro has told Sky Sports that their game with Manchester City is their most important so far.
By Francisco Acedo
Last Updated: 18/02/14 7:11pm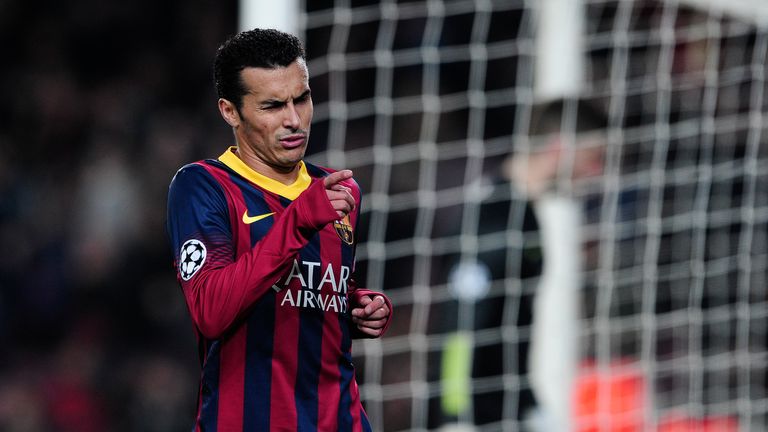 The Spain forward is expected to feature in the first leg of their UEFA Champions League last-16 with City at the Etihad on Tuesday night.
Pedro admits that City would not have been Barca's first choice for opponents at this stage, but he insists that if you want to win the tournament, then you have to beat the big teams.
"Really we would have preferred another rival in the draw," he said, "but if Barcelona dreams of the final in Lisbon, it is obligatory to beat the big rivals - and City is on that list.
"We always play to our maximum level but perhaps this week we are looking at the most important match of the season.
"Manchester City is a tough rival in its own stadium but we are prepared to play in these venues. I like the atmosphere in England. For me, it is an example for other leagues."
Pedro says the tie will be decided back in Catalonia, but acknowledges they want to score in Manchester.
"Normally this round will be resolved in the Nou Camp, but we want a good score in England," he added. "Not only a goal, but a match of quality."
Messi
The 26-year-old says Barca cannot and will not rely on Lionel Messi in Manchester.
"Messi today is the number one player in world football, but the matches are decided by the squad," he said.
"Barca have won matches without Leo but is true that he generates fear in his rivals."
Pedro does believe that Manuel Pellegrini's in-depth knowledge of Spanish football, following his stints with Villarreal, Malaga and Real Madrid, will help City.
"Pellegrini has worked in Spain and so he knows us, which is an advantage for City - but it won't be decisive," he said.
"It is also excellent that we will meet national colleagues like Silva, Negredo and Navas. We will greet them before the match but on the pitch, we cannot afford to concede anything to them as they are key players for City."