Barcelona assistant coach Jordi Roura questions referee ahead of Clasicos
Barcelona assistant coach Jordi Roura has turned up the heat ahead of the first of this week's Clasico clashes.
Last Updated: 25/02/13 3:32pm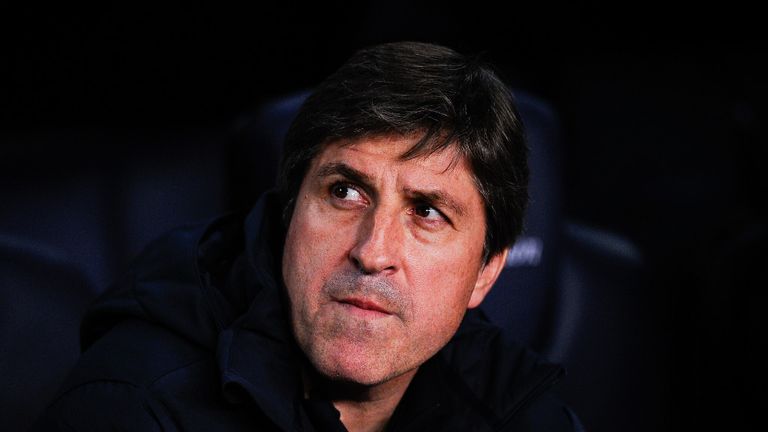 Barca host Madrid at the Nou Camp on Tuesday night in the second leg of their Copa del Rey semi-final, which is poised at 1-1 after the first leg, before the show moves to Madrid for a league fixture between the two on Saturday.
Roura pointed out that Undiano, appointed for Tuesday's match, had taken charge of Barca's only league defeat this season - when Gerard Pique was sent off in a 3-2 defeat to Real Sociedad in January - and also recalled his stewardship of the 2011 Copa del Rey final, won 1-0 by Real Madrid in extra-time.
Undiano actually sent off Angel Di Maria late on in that fixture, but Roura still claimed the referee had let too much go from Madrid.
"It is evident that with Undiano our numbers are always worse than with others," Roura said. "And we keep in mind his permissiveness in that Copa final.
"But we must wish him luck. What we are concerned with is Madrid."
Roura expects Undiano to be kept busy due to the special intensity of matches between the great rivals, but hopes the officials do not steal the limelight.
"We hope that their decisions do not decide the match and that they go unnoticed," he said. "Every Clasico is intense, hard. But we hope it won't run out of hand and that it stays within the sporting limits."
With Barca 16 points ahead of third-placed Madrid in the league, the cup fixture has more resonance for both sides, with Madrid desperate to pursue some alternative silverware where they can while Barca try to keep alive their hopes of a domestic double or continental treble.
Roura said Tuesday's match was "more crucial" than that at the weekend, and he has seen that fact reflected in training.
"The matches against Madrid are always complicated as they are a great team with great players," he said.
"But we really want to reach the final, compete and achieve a new goal. I see the team are very focused."
This week's Clasico double-whammy comes in the middle of an intensive period for both teams, with Madrid also keeping one eye on next week's Champions League meeting with Manchester United, when they will head to England following a 1-1 draw in the first leg.
Barcelona will have an even tougher task at home trying to overturn a 2-0 deficit from their first leg against AC Milan while neither side did much to settle any developing nerves with uncertain 2-1 league victories at the weekend, Barca seeing off Sevilla at home while Madrid scored late to beat Deportivo away.
Barca's star man Lionel Messi, who grabbed the winner against Sevilla to score in his 15th straight La Liga match, believes the team must keep faith in their style to prevail.
"We must not drive ourselves crazy about the result in Milan or the first half against Sevilla," he told Barca TV. "We have to pull ourselves together because there are some decisive games coming up."
Although a 0-0 draw would be good enough for Barca thanks to the away goals rule, Messi added: "In front of our own fan,s we do not have any other option than to go for a win against Real Madrid.
"We cannot start thinking that a goalless draw would see us through. We have to be at our best against Real Madrid, because otherwise we will not get through the tie."