Confederations Cup: Andres Iniesta is critical of final referee Bjorn Kuipers
Andres Iniesta was critical of referee Bjorn Kuipers during Spain's 3-0 Confederations Cup final defeat by Brazil.
Last Updated: 01/07/13 4:45pm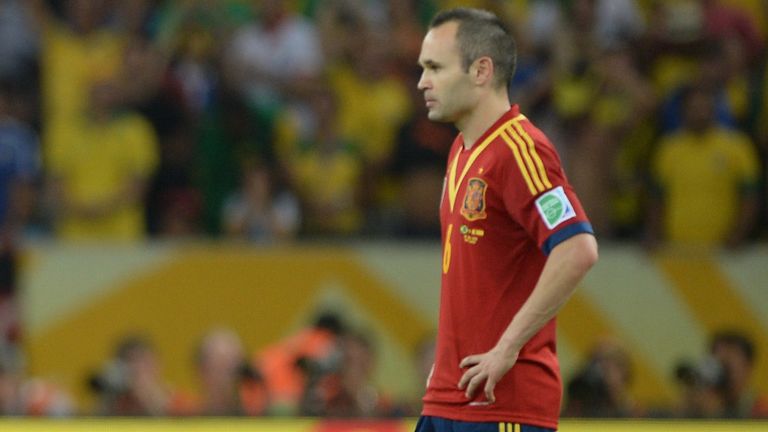 The midfielder hit out at Brazil's aggressive style of play and claimed the Dutch official should have been stricter with Luis Felipe Scolari's men.
He said: "There were many interruptions. We knew that that might happen, but the referee has to draw the line.
"We were up against a very strong side that did everything better than us and paid a lot of attention to the small details. Sometimes you win, sometimes you lose, so we just have to accept it.
"They were better than us, we tried to get back into the game but it wasn't to be. We have to congratulate the champions and try to do things as best as possible from now on."
Xavi only focused on Spain's poor performance and believes the home side's early goal was a huge setback.
"Nothing went our way, everything went against us, we didn't got into the game at any moment," he said.
"Their goal after two minutes made things very difficult for us and benefited the way Brazil play. They played on the counter-attack, we weren't able to dominate them, as we normally do to opponents, and we ended up paying for it. They were more intense, had more rhythm, pressed harder, they were just better.
"We didn't give the same image of ourselves in other games and that's what we'll remember. We are upset, it was a special day, we really fancied ourselves to win and we wanted to put in a good performance, but in the end we just didn't turn up."
Iker Casillas admitted his side were wounded by the defeat but did not think it would have too many ramifications for the team ahead of next year's World Cup.
"We know that it's nothing like the World Cup or the European Championships, but when you lose 3-0, it still hurts," he said.
"We have to deal with this painful defeat. Sometimes you lose, we don't have to over analyse the game, we have to lift ourselves up."
Spain's misery was in stark contrast to the joy felt by the host nation.
Fred put them ahead early on before a Neymar strike just before half-time and a second from Fred shortly after the restart handed the Selecao an emphatic win.
A wonderful achievement
Neymar was later voted man of the match and player of the tournament but the 21-year-old, recently signed by Barcelona, was more than happy to share the acclaim with his team-mates.
He told O Globo: "Everyone should be congratulated. The team played great, beyond what we expected.
"It was a wonderful achievement."
Neymar was delighted to have left Brazil on a high as he sets off on his European adventure in Catalonia.
"It was the farewell I imagined: to become a champion and play a good game," he added.
Brazil goalkeeper Julio Cesar was quick to indulge in some one-upmanship after his side defeated the world and European champions.
He said: "With respect to Spain, football has a hierarchy. Brazil is the five-time world champions.
"It is an unexplainable feeling to win a title with the national team at the Maracana.
"I am very happy to have been a part of this team."