Gareth Bale praises Real Madrid team-mate Cristiano Ronaldo and says there's no rivalry
Gareth Bale says there is no rivalry with Cristiano Ronaldo and believes his team-mate deserves to win the Ballon d'Or.
Last Updated: 24/11/13 11:39am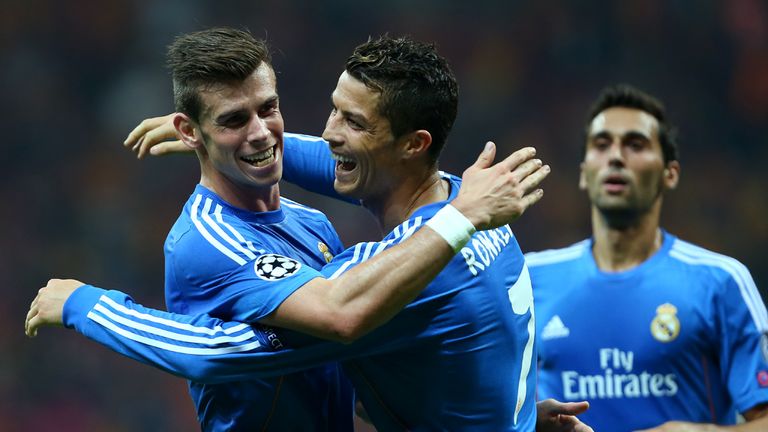 Wales international Bale overtook Ronaldo as the world's most expensive player when he joined Real from Tottenham Hotspur before the close of the summer transfer window.
There were suggestions that the two attackers could struggle to play in the same team and that Ronaldo would be upset to lose his status as the game's most costly player.
However, Bale has praised the way Ronaldo has helped him to settle at the Santiago Bernabeu and insists there have been no issues with the former Manchester United winger.
"I wasn't nervous," Bale told The Independent of their first meeting. "It's obviously great to meet a player of his calibre.
"Since I've been here he's had nothing bad to say to me, he's just given me encouragement every game, given me confidence. He has been sharing his first experiences when he first came here and they have really helped me along. He's been absolutely brilliant.
"There is no rivalry at all. We get on very well. He's helped me out a lot on and off the pitch. We're enjoying playing together and I think that the goals and assists show that we're playing well together.
"There's still a lot more to come from us both and hopefully we can have a successful season by doing that.
"Since I've been here he's been nothing short of unbelievable. He's not scored less than two goals in any game since I've been here, I think. The amount of goals he's scored is just mind blowing this season."
Ronaldo has scored 32 goals for club and country this season, and his hat-trick against Sweden in midweek helped to secure Portugal's place at the World Cup finals.
The 28-year-old, who has scored five hat-tricks this season, has replaced Lionel Messi and Franck Ribery as the favourite to win the Ballon d'Or, and Bale feels his team-mate deserves the prize.
Bale added: "For me, he is the best player in the world and I don't think anyone is near him. He deserves that award.
"The goals and the performances he has put in, especially when you think of the pressure he is under, for Portugal the other day, it shows what a true, true world-class player he is."