Jordi Roura denies rumours of a rift between Lionel Messi and David Villa
Barcelona assistant coach Jordi Roura has described as "absurd" rumours of a rift between Lionel Messi and David Villa.
Last Updated: 18/03/13 12:16pm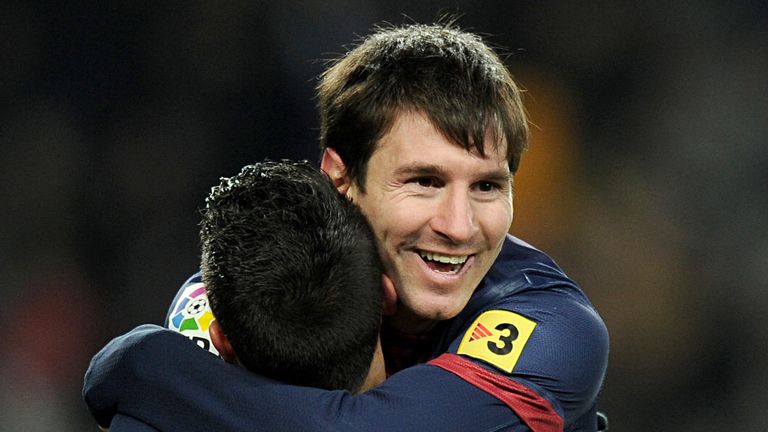 Rayo could not handle the partnership at the Nou Camp with all three goals coming from the pair, Villa opening the scoring and Messi scoring twice before Raul Tamudo grabbed a consolation.
Victory helped Barcelona restore their 13-point lead over Real Madrid at the top of La Liga and Roura felt moved to categorically dismiss reports of bad feeling between the two.
"This issue of a conflict I have heard many times - it is absurd," said Roura, who is deputising for Tito Vilanova as he continues to recover from cancer surgery in New York.
"Currently the relationship between the two is just like it was a few months ago. I mean, very good."
Villa has enjoyed a fruitful week, his goal on Sunday night coming days after he scored against AC Milan as Barcelona made an astonishing comeback to qualify for the quarter-finals of the Champions League.
Roura continued: "I've always said that David is a very important man for us. It's a great joy for us to see him score because he brings a lot to the team."
"He has been a very important player this week and helped us a lot
"It's a combination of things, but he has extraordinary quality. Emotionally for him to score against Milan was important.
"For us it is a great joy and we are pleased that they are so comfortable together.
"For the team there is no doubt that having players of this level is very important.
"Their quality is unquestionable."
And on Messi he added: "Life is a lot easier when you have Lionel Messi. You have to enjoy it on a daily basis when you have the best player in the world on your team."
Despite Barca's apparently unassailable position at the top of the league, Roura refused to look too far ahead.
"We are in a very good situation, but you cannot say anything. Every game is important and we are closer, but still there is nothing gained.
"After the break we have to travel to Celta Vigo which will not be easy. Step by step."
The only downside for the Catalan club was a hamstring injury suffered by Adriano which will see him sidelined for four to six weeks.