AC Milan friendly with Pro Patria abandoned after racist chanting at players
A friendly between AC Milan and Pro Patria was abandoned amid allegations of racist chanting towards some players
Last Updated: 03/01/13 7:29pm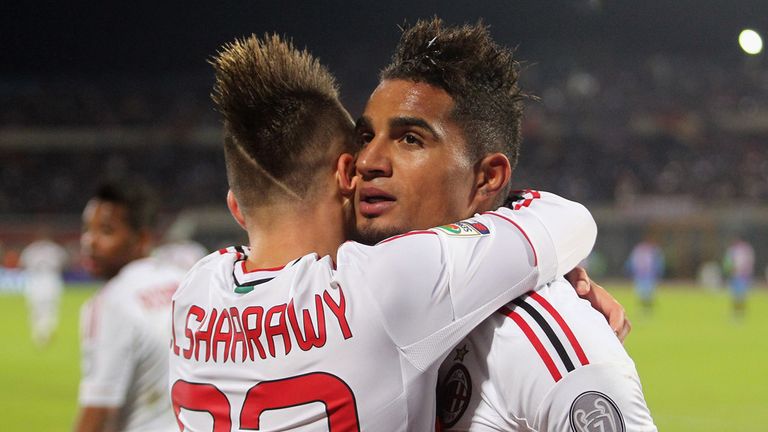 The game at Pro Patria was halted after 26 minutes when Milan's Ghanaian midfielder Kevin-Prince Boateng kicked the ball at the stand behind him, removed his shirt and left the field with his team-mates.
According to the Gazzetta dello Sport, the former Portsmouth midfielder was subjected to repeated abuse, along with fellow Milan stars Urby Emanuelson, Sulley Muntari and M'Baye Niang.
As he left the field, Boateng clapped the other areas of the ground, whose supporters appeared to react angrily towards the section of the crowd where the chants came from.
AC Milan's official site were doing a live text commentary on the game, with the entry for the 26th minute reading: "AC Milan leaves the pitch after racist abuse by a minority of Pro Patria fans at Boateng, (Mbaye) Niang, (Urby) Emanuelson and (Sulley) Muntari.
"The rest of the fans in the stands disassociated themselves from such racist events."
Milan coach Massimiliano Allegri said afterwards: "We are disappointed and saddened by what has happened.
"Milan play for the right to respect all players. We need to stop these uncivilised gestures.
"We are sorry for all the other fans who came here for a beautiful day of sport. We promise to return, and we are sorry for the club and players of Pro Patria, but we could not make any other decision.
"I hope it can be an important signal."
Milan captain Massimo Ambrosini later tweeted: "Milan will come back (to Pro Patria) for the kids and people who've nothing to do with racism, but a strong signal had to be sent."