Brits abroad - Gordon Cowans
Continuing our new Brits abroad series in which we speak to players and coaches to get the lowdown on their time overseas, Adam Bate talks to former England midfielder Gordon Cowans about his time in Italy.
By Adam Bate - Follow me @GhostGoal
Last Updated: 31/10/12 4:48pm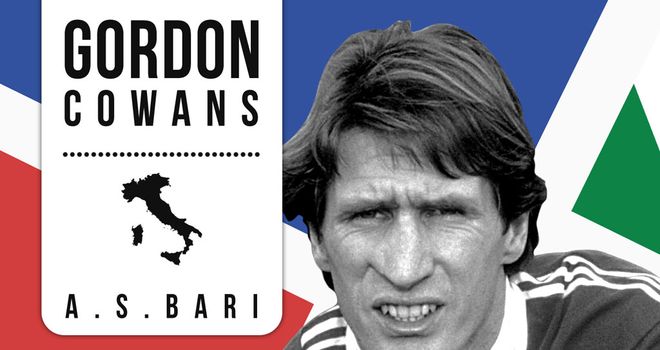 The England midfielder was part of the Aston Villa team that won the European Cup in 1982. Three years later he made the move to Italy to join newly-promoted Bari and spent three seasons at the club. Adam Bate met up with the current Villa development coach to find out more.
How did you come to join Bari?
Two years prior to moving to Bari, I had the opportunity to go to Naples in 1983. I wasn't sure what to do and in the end it fell through because the Napoli president got ousted from the club. The sporting director moved on too and the chance was gone. I still wanted to try my luck in Italy though. A lot of British players were going out there at that time - the likes of Graeme Souness and Trevor Francis - so when Bari came in for me I decided to give it a go.
Aston Villa had recently won the European Cup. Unfortunately, however, they were now starting to break that team up. Graham Turner had come in as manager and there were a lot of players leaving the club who I felt were still more than good enough and more than fit enough to do a job at that level. Perhaps it was decisions from above but these things made my mind up for me really.
A man called Gianni Paladini [who later had a spell as QPR chairman] was working for one of Eddie Fewtrell's nightclubs in Birmingham at the time. Gianni had a lot of contacts over in Italy and decided to become an agent.
Gianni was able to get in touch with the ex-Napoli sporting director, who was now at Bari. He still wanted to sign me and so they came to watch me a few times. They must have liked what they saw because not only were they still keen on me but they also wanted to sign our young centre forward Paul Rideout - so they took the two of us.
What were your first impressions?
Bari were a team just coming up from Serie B and we went out to take a look at them on the final day of their 1984-85 promotion season. It was a great atmosphere and a fairly big stadium but the team weren't that great to be honest.
That wasn't the most important thing though. And it wasn't about the money for me either. It was about putting myself in a different country with a different style of football and trying to learn from it. So I decided to go for it.
When we landed at the airport there were around 5,000 Bari supporters there. It was absolutely potty. We couldn't walk through the airport because there people grabbing us and kissing us. It was a huge shock just how much it meant to them that we were coming to join the club.
Was it tricky to adapt?
It was an all-Italian squad when we went out there but having Paul with me made things a lot easier. We obviously knew each other well already and with neither of us able to speak a word of the language it meant we had someone to talk to.
After a while we started to pick up bits and bobs and it became easier, but at first it was a challenge - and not only for us as players. I was going out there lock, stock and barrel with a wife, a 14-month-old daughter and a dog.
It was a culture shock, not least because the heat was stifling. They took us to a tiny holiday resort where the rooms were like boxes. Fortunately for me, I was straight off to pre-season the next day - but my wife and Paul's girlfriend were left to fend for themselves really. The director of football's wife was good enough to take them out to look at properties and by the time I came back three weeks later it was all sorted!
How about the football?
The first day's training was different too. We did a Cooper Test which is a 12-minute run where you see how many laps you can run. Paul and I were busting a gut while everyone else jogged around looking relaxed. It was a totally different mentality there - they gradually built us up through pre-season, starting with light weights and moving through the gears.
This was completely different to English pre-season at that time where you'd just go straight into it. You'd be running from day one and not see a football for the first two weeks! In Italy we did technical work in the afternoons which was a lot nicer.
The problem was I broke my leg in a cup game against Ascoli before the Serie A season had even started! I went in for a tackle with someone face on and got hit from somebody else from the side as well, breaking my fibula.
The result was that I didn't make my debut until the end of October. It happened to be in the derby against Lecce - and it also happened to be my birthday.
The atmosphere was fantastic. We won the game 2-0 with Paul scoring the first and I got carried off the pitch on the fans' shoulders.
When we got to the dressing room the president doubled the bonus and then one of the lads mentioned it was my birthday so he doubled it again - everyone was happy!

Serie A was the place to be at that time. How did you find the challenge?
It was a great experience to finally get out there against the very best players in the world. Of course, Diego Maradona was there at that time and guys like Karl-Heinz Rummenigge at Inter were around too.
AC Milan at that time already had the likes of Paolo Maldini and Franco Baresi, while Juventus had Michael Laudrup and Michel Platini (who scored a hat-trick against us). This was what I wanted to be doing - testing myself against the best.
I have some good memories of that year. There was a win over Roma where Paul scored and we got to play in some big stadiums in Milan and Naples - even managing to get a draw in the San Siro.
The style of football could be frustrating though. Every time you got the ball, the opposition would sit back and get behind the ball. The idea was to work your way through them but all the teams there were very well organised. They'd pack the midfield and make it hard for you to get through. If you didn't play an early pass - which I liked to do - you'd have to just build and build and we weren't quite up to it.
Bari were relegated in your first year there. What was the problem?
The club just hadn't strengthened enough after promotion. Other than me and Paul, they'd only really brought in a couple of young lads. We'd taken a gamble going out there and the lack of quality in the side was obviously a disappointment.
Halfway through the second year was a particularly hard time. I should have been in the prime of my career but instead I was in a side that was clearly going nowhere, even in Serie B.
Bruno Bolchi, a former Italy international midfielder, had been the coach in our first year and was a really nice man who helped me a lot in coming back from my leg break. But he was replaced by Enrico Catuzzi who wanted us playing pretty triangles. It was basically what Barcelona are doing now but we were a mid-table Serie B side and just didn't have the quality to do it.
Paul, in particular, was cheesed off and quite understandably wanted to get back to England. But in the end we honoured our three year contracts.
Do you think it affected your England career - a case of out of sight, out of mind?
It may well have cost me a trip to the 1986 World Cup. I was in the squad after returning from my broken leg and scored in a 4-0 win over Egypt. Bobby Robson then picked me for a game in Russia and told me I'd be playing the first half and Steve Hodge would get the second. It was basically a play-off to decide who'd go to Mexico that summer.
I ended up playing more than an hour before Hodge replaced me and Don Howe even told me how well I'd done. But when the squad was announced Hodge was in and I wasn't. I do think if I had been in England then I'd have gone so perhaps I missed out on some opportunities, particularly after that World Cup when I dropped down into the second division.
Are you glad you made the move then or was it a mistake?
There's mixed feelings when I look back on my time at Italy. There was certainly an unsavoury side to life in the south of Italy and the presence of organised crime in Italy is very real. In midweek we would always get the coach and play friendlies for some of the lads who weren't getting games. On the roads around Bari you'd see cars parked every 200-300 yards because they were just lined with prostitutes.
It was on the way back from one of these trips, we saw a man on a scooter come past us on the dirt track. We heard a couple of bangs. He'd shot the bloke in one of these cars through the window. We pulled up and saw the man stumble out the car in a pool of blood. It was just scary to see something like that - a real eye-opener.
On the other hand, I made a lot of friends over there. By the time I secured the move back from Italy in 1988, my wife actually wanted to stay in Bari. She had hated it at first but had grown to love the lifestyle - the restaurants and the food. We are still good friends with the family we lived next door to and enjoy going over to see them to this day.
When you were back at Villa, Bari came in for your team-mate David Platt. What was your advice to him?
The president of the club called me up asking if I'd have a chat with David. I was happy to recommend the club. For David it was a way of getting into the Italian top league. The key was that he did the right thing by only having a year at Bari and then moving on when the bigger clubs came in for him.
If there is a player you would like to see featured in our Brits abroad series, just let us know in the comments section.