Four arrested after shootings before Coppa Italia final between Napoli and Fiorentina
Four arrests made following shootings which overshadowed Coppa Italia final between Napoli and Fiorentina on Saturday.
Last Updated: 05/05/14 7:43am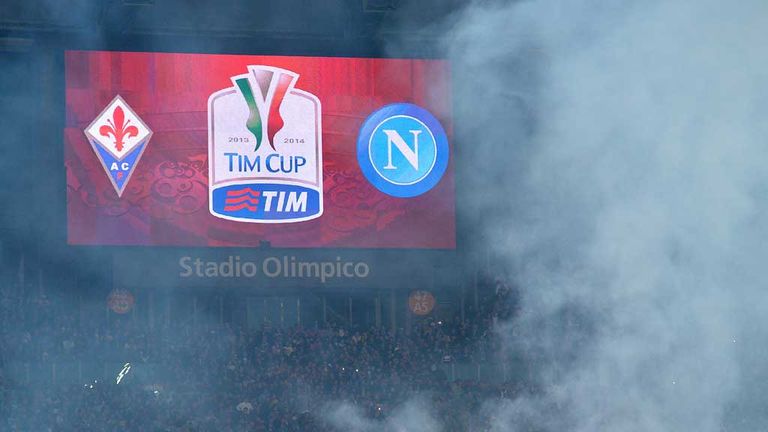 A Roma fan named Daniele De Santis allegedly fired four shots before the showpiece final between Napoli and Fiorentina on Saturday and has been arrested for alleged attempted murder.
De Santis, 48, has a fearsome reputation in Italy as one of the most prominent "Ultras" associated with Roma.
He was among a group of Ultras who prevented the derby between Roma and Lazio in 2004 from taking place. He is reportedly suffering from head injuries.
Ciro Esposito - one of three Napoli fans suffering from gunshot wounds - remains in serious condition, but is conscious at a Rome hospital awaiting surgery.
Doctors said the bullet that hit Esposito went through his lung and lodged in his spine, according to The Guardian.
Saturday's final was delayed by 40 minutes as officials attempted to calm fans down in the stadium.
There were some disturbances in the stands prior to the match and fans threw flares and smoke bombs resulting in injuries to police officers, stewards and a firefighter.
Napoli captain Marek Hamsik appeared to be involved in negotiations with Napoli Ultras chief Gennaro De Tommaso before the game could take place.
Former Italy manager Arrigo Sacchi condemned the violence and the shameful scenes inside the stadium.
"What happened was the surrender of the country's institutions to the fans," Sacchi said.
"No-one wants to take any action because they are afraid of losing support, so the solutions are always put off and then forgotten about."
Napoli beat Fiorentina 3-1 to lift the trophy when the match finally got under way.