Bundesliga: Bayern Munich chairman Karl-Heinz Rummenigge keen to keep focus
Karl-Heinz Rummenigge says Bayern Munich will not have time to celebrate a possible title success this weekend.
Last Updated: 29/03/13 5:31pm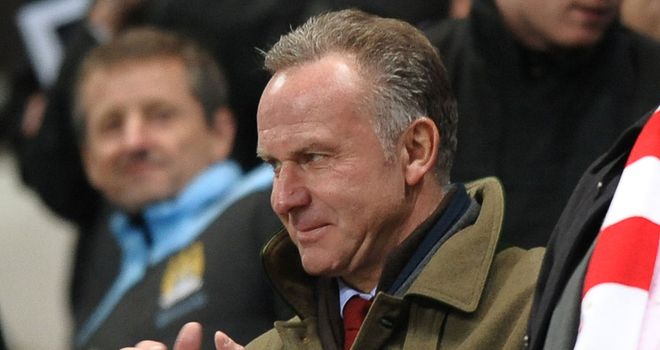 Should Borussia Dortmund fail to win in Stuttgart, Bayern can clinch the title by beating Hamburg on Saturday evening.
However, other than the usual post-victory acknowledgement of their fans inside the Allianz Arena, it will be a case of taking a quick shower and preparing for their next big task rather than popping the champagne corks.
"As soon as the final whistle blows, our concentration will turn to the difficult and highly-interesting Champions League quarter-final against Juventus," said Bayern's chairman Karl-Heinz Rummenigge.
"We want to try to continue along the same path we took in 2010 and 2012 without any deviations."
Nevertheless, Bayern are on the verge of clinching the title sooner than any team before them.
Even if southern Germany rivals Stuttgart do them a favour by taking points off Dortmund, Bayern still have to work hard for the title, said coach Jupp Heynckes.
"Hamburg are an unpredictable side and on a good day, they play fantastic football," he said.
"We must not make the mistake of taking the second step before we have taken the first."