Bayern Munich defender Daniel van Buyten says they are confident of beating Arsenal
Daniel van Buyten has told Sky Sports that Bayern Munich cannot afford to underestimate Arsenal.
By Francisco Acedo
Last Updated: 19/02/13 7:24pm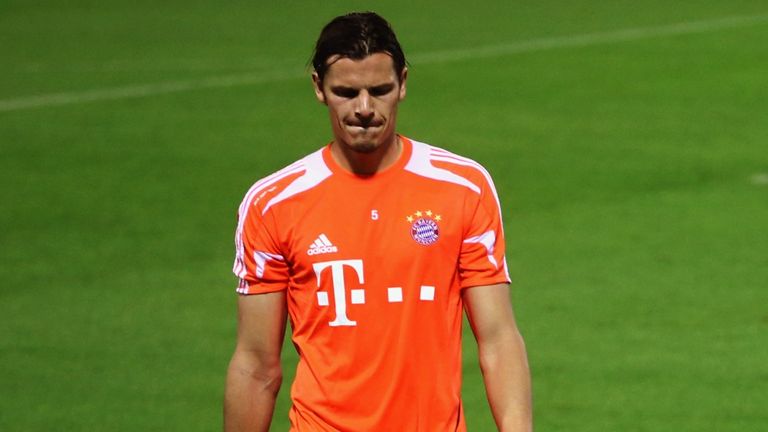 The German giants are the visitors to the Emirates Stadium and they arrive in fine fettle, with 11 wins on the bounce and without a defeat since October.
They are 15 points clear at the top of the Bundesliga and look well placed to make a challenge for Europe's most prized trophy.
They arrive to take on an Arsenal side who come into the game on the back of a shock FA Cup loss to Blackburn, while they also have a fight on their hands just to make the top four this term.
But Van Buyten says that despite the fact Bayern are in form, they still need to be aware of Arsenal's capabilities.
"In these last few months we have studied Arsenal and we are optimistic but there is no guarantee," he told Sky Sports.
"Today Bayern is playing better than Arsenal but after our experiences in the past Champions League we won't be overly confident in any match.
"It is necessary to go to London looking for a good score so we can manage the second match with less pressure.
"It is normal that Bayern would be the favourite but an English club is never easy on the pitch. We are ready for a big battle during both matches."
The experienced Belgian admits Bayern come to England wanting to score.
He said: "It is key to score any goal in the Emirates. Arsenal and Bayern are clubs with powerful attacks, so the defence will be decisive for success.
"In normal circumstances this tie will be resolved in Munich but our objective is to go back with less problems for the home leg."
He insists that recent setbacks for Arsenal will not impact on their chances in Europe.
"Arsenal have suffered some blows but that does not reduce their chances. The Gunners always offer something big in the Champions League and they are dangerous in all the aspects," Van Buyten explained.
"Their FA Cup knock-out could also come back on us because now they will have that desire to demonstrate more to their fans against us. These things can influence things but this match is still more important for Arsenal."
Van Buyten says that Bayern's failure on home soil in last year's final against Chelsea still haunts them.
"The squad have a debt with our fans after the final in 2012 and our dream is to repeat this and get to the final this year."