Franck Ribery and Karim Benzema acquitted of charges of soliciting under-age prostitute
France pair Franck Ribery and Karim Benzema have been acquitted on charges of soliciting an underage prostitute.
Last Updated: 30/01/14 2:32pm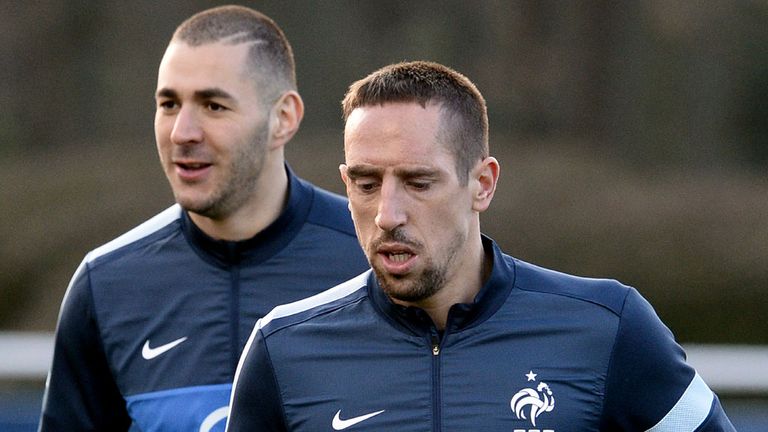 Bayern Munich forward Ribery and Real Madrid striker Benzema were being tried on charges of paying prostitute-turned-fashion model Zahia Dehar, now 21, when she was aged 16 and 17.
Dehar claimed Ribery flew her to Munich as a birthday present to himself in 2009. But the player, who admitted having sex with her, claimed he did not pay her and did not know she was a prostitute or a minor.
Real Madrid striker Benzema denied all the allegations. The 26-year-old was alleged to have paid to have sex with Dehar in May 2008, the night he won the French player of the year award playing for his former club, Lyon.
But at their trial in Paris, a judge ruled there was not enough proof that the men were aware the self-described escort was a minor at the time.
Ribery's lawyer Carlo Alberto Brusa, in tears after informing his client of the verdict by phone, said: "I am very happy with the verdict.
"We fought for him to be cleared without any stain on his name. This acquittal is the end of a sad story, a page that has finally been turned."
Benzema's lawyer Sylvain Cormier called the outcome 'the end of a nightmare' adding: "It was very painful for him. He's a strong person, he really impressed me. Four years is a very long time."
The pair, who like Dehar did not attend the trial, had faced up to three years in prison if found guilty.
Prostitution is legal in France, but prostitutes must be over 18. The case has been hanging over the players since July 2010, when a French judge issued preliminary charges against them.