Jurgen Klopp happy after Borussia Dortmund beat Marseille 3-0 at home
Borussia Dortmund boss Jurgen Klopp was delighted with his side's performance in Tuesday night's 3-0 win over Marseille.
Last Updated: 02/10/13 12:55pm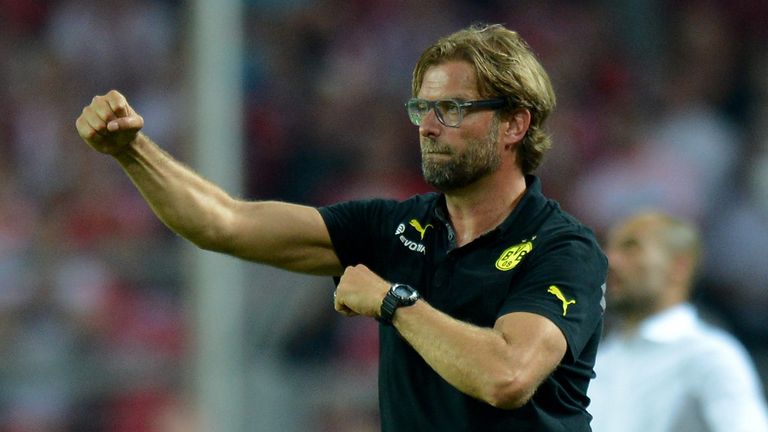 Klopp served a one-match touchline ban for the Champions League contest in Westphalia for his sending-off in his side's opening Group F defeat at Napoli.
Dortmund got their campaign up and running thanks to two goals from Robert Lewandowski and one from Marco Reus.
Asked how it felt watching from the stands, Klopp told Dortmund's official website: "It is not something I need too often, but when the game goes as well as this one it's easy to deal with. (Former media director) Josef Schneck tried to entertain me, the team did the rest."
Klopp's assistant Zeljko Buvac directed affairs from the touchline and midfielder Kevin Grosskreutz said the win was for Klopp.
"Without our coach it was a bit strange," he said. "When I looked over to the right and he was not there, that was unusual. We achieved the win for Klopp as well. He always sets us up brilliantly. But the assistant also did that very well."
Klopp admitted, though, that the match was not as one-sided as the scoreline suggested.
He said: "We had to put in a lot of effort and if we'd run just a few kilometres less we would have struggled.
"We had to give our all. Now we are in a good position in our group.
"The team executed perfectly what we talked about before the game. Marseille are a strong side if you let them play their game. We needed to prevent that by putting in a lot of effort.
"Marseille looked dangerous each time they came better into the game. And they would have looked even more dangerous if we hadn't closed down the spaces so quickly."
The win left Dortmund level on three points with Napoli in the group, three behind leaders Arsenal.