Cesc misses Portugal trip
Cesc Fabregas has not travelled to Lisbon with the rest of the Arsenal squad but Arsene Wenger maintains there is no hidden agenda.
Last Updated: 05/08/11 11:16pm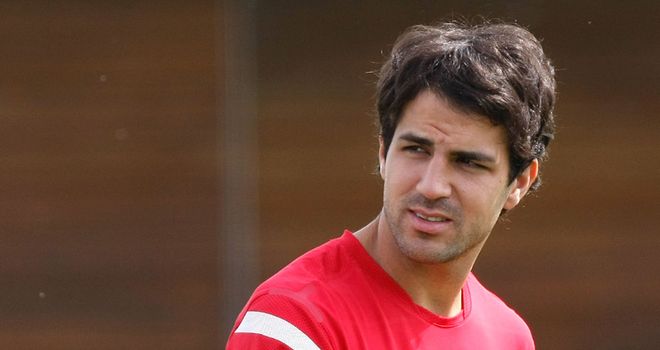 Cesc Fabregas has not travelled to Lisbon for Arsenal's pre-season game against Benfica but Arsene Wenger maintains there is no hidden agenda behind his absence.
The Spaniard has been the subject of speculation all summer linking him with a return to Barcelona, and has not featured for the Gunners in any of their pre-season matches to date.
He was not included in Arsenal's 19-man party for the Eusebio Cup in Portugal this weekend, which flew out of the UK on Friday night.
Wenger insists Fabregas was left out because he is not yet ready to play after injury, and was reluctant to be drawn into commenting on the latest transfer talk.
Arsenal are understood to have rejected a third offer for their captain and Wenger is adamant that he remains as determined as ever to keep hold of the 24-year-old.
Asked about why Fabregas was not travelling with the rest of the squad when he had taken part in an open training session during Members Day, Wenger said: "I do not want to speak about the transfer of Fabregas because I have done that three years now in every press conference so I don't think there is any more need to add something.
"I love Fabregas and I want him to stay, that is basically it.
"Everybody is free to think what they want. We cannot stop people raising questions.
"He is just coming back from injury and is not ready to play in a game. But he is not injured."
Eboue and Bendtner
Wenger also explained why other members of the squad had not made the trip to Portugal.
While most players have been left out for fitness reasons, Wenger admitted Emmanuel Eboue could be set for a move away from Emirates Stadium along with Nicklas Bendtner.
"Walcott is back in training but he is not ready just yet," he said. "Wilshere is injured on his ankle and it is very difficult to set a concrete deadline on his comeback.
"Nasri has a muscular problem. Cesc is just coming back from injury and he is not ready to play in the game. Diaby is out and Koscielny has a small muscular problem.
"Bendtner and Eboue are not in the squad because they might be going out of the club.
"Koscielny and Nasri might be back for the start of the season. I don't think Fabregas will be ready to start the season because he has been out for a long time and has had no games.
"Walcott might be back and, as for Wilshere, it is very difficult to say."
If Fabregas does recover from a hamstring problem in time to face Udinese in the UEFA Champions League play-off round, then he would be ineligible to play in the competition for Barcelona should a move go through ahead of the transfer deadline.
The first leg of the Udinese tie will be played at the Emirates Stadium on 16th August.