Roberto Mancini admits Manchester City's Champions League exit not unexpected
Roberto Mancini conceded Manchester City's exit from the Champions League was decided long before the draw with Real.
Last Updated: 22/11/12 1:38pm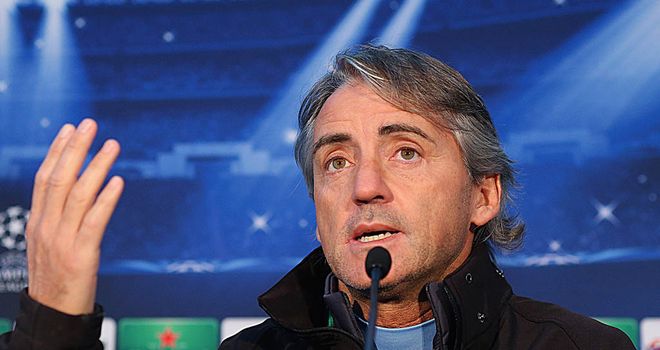 City took their points haul to only three from five games thanks to Sergio Aguero's penalty, but despite having a man advantage in the closing stages they were unable to stay alive with a winning goal.
That leaves them needing to beat Borussia Dortmund in Germany next month to have any chance of a place in the Europa League, with their Champions League hopes over in the group stage for a second year running.
"I think that the first half we played so-so, Real Madrid played better than us. Second half we played better, we had one or two chances to score. After we scored the penalty, well the result is correct," Mancini said.
"The first chance they had, they scored. It was a mistake, we were five against two in the box and we concede a goal. When you start like this it is always difficult.
"We were 1-0 down and we didn't have anything to lose in the second half. We pushed up more than the first, we played better, but Real Madrid were better in the first-half.
"I don't think we lost this tonight, we lost it in the first games - Madrid, Dortmund at home and against Ajax we did some mistakes. In Madrid we were 2-1 with five minutes to go. In Amsterdam we were 1-0 and we miss two chances to close the game. I hope that can help us to have more experience next year.
"I am disappointed as normal, like everyone here, but when we started this group we knew it was a difficult group.
"But we are a good team. We went out and we made some mistakes, but that is the Champions League. We wanted to go to the next stage."
Mancini's name was chanted by City's fans throughout the closing stages of the game and he called on them to continue their support in the Premier League despite their European disappointment.
"The fans are fantastic always - they understand that we are disappointed and for us they are really important because the season is not finished.
"We have the Premier League to play, we are on top, and we have the FA Cup. That's two competitions and we want to have a good year. It's disappointing to be out of the Champions League but now it is finished we can do nothing. I want to be in the Europa League if possible."