Champions League: Celtic's Virgil Van Dijk concedes childhood love for Barcelona
Celtic defender Virgil Van Dijk insists his side have confidence as they prepare to Barcelona in the Champions League.
Last Updated: 01/10/13 10:41am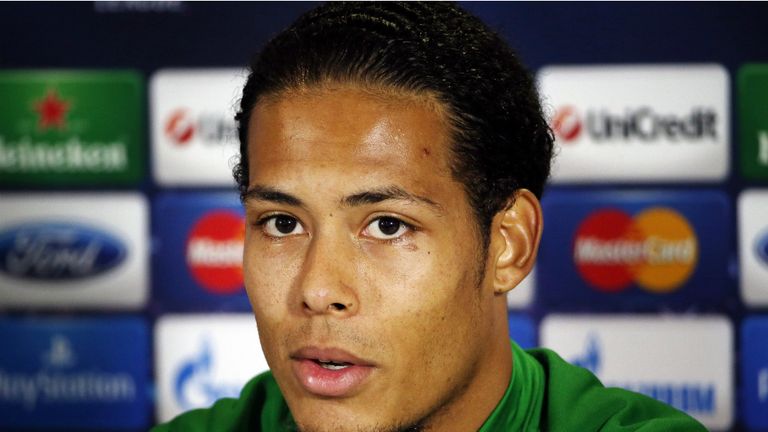 Despite an array of Dutchmen donning Barcelona colours over the years, with Johan Neeskens, Johan Cruyff and Frank Rijkaard all making headlines, it was the Brazilian talent which first attracted Van Dijk.
The 22-year-old centre-back grew up wanting to emulate the likes of Ronaldinho, Ronaldo and Rivaldo as he practised on the streets of Breda.
"I watched Barcelona a lot when I was younger and not just for the Dutch players," he told the Daily Record. "It was the Brazilian players I watched most. They brought so much joy and fun.
"I was a really big fan of Ronaldinho. He was a fabulous football player and I liked to try to recreate his actions when I played on the streets as a kid.
World class
Barcelona are without the services of three-time Ballon D'Or winner Lionel Messi for the Glasgow meeting but Van Dijk insists there is still an abundance of quality to restrict.
"Messi is a world-class player and will be a big miss but they have enough good players to fill in for him," he added. "Neymar is also world class but you have to believe in yourself.
"I can have respect for all of them but I'll show it after the game. During the game you have to be strong because it is going to be a big night and a tough night."
Van Dijk was only spectator last year as Celtic produced a shock 2-1 victory over Barcelona at Celtic Park - and is relishing the opportunity to sample the atmosphere this time round.
"We know how Barcelona play and we know they love to play on possession. We need to use set-pieces and work hard defensively," he added.
Belief
"The first impression I had watched the game was from the fans - the atmosphere was fantastic. It was unbelievable, even on TV. You could see how big Celtic was and now I'm playing here, it's even bigger.
"Having the fans behind you for every minute and every second of the game is so important."
Although Van Dijk is one of a number of changes in the Celtic squad since that historic victory, the Netherlands Under-21 international insists there is plenty of confidence in the camp.
"We have belief and I think the players who won last year have even more belief than the new players.
"Everything is new for us but we have trained and spoken about it so we know what we are capable of and I think there's a chance we can get another good result.