The Godfather
As if David Moyes did not have enough problems, on Wednesday, the under-pressure Man Utd boss must take on one of the most experienced managers in world football - Shakhtar's Mircea Lucescu
By Peter Fraser - Follow me on Twitter @SkySportsPeteF
Last Updated: 01/10/13 11:31pm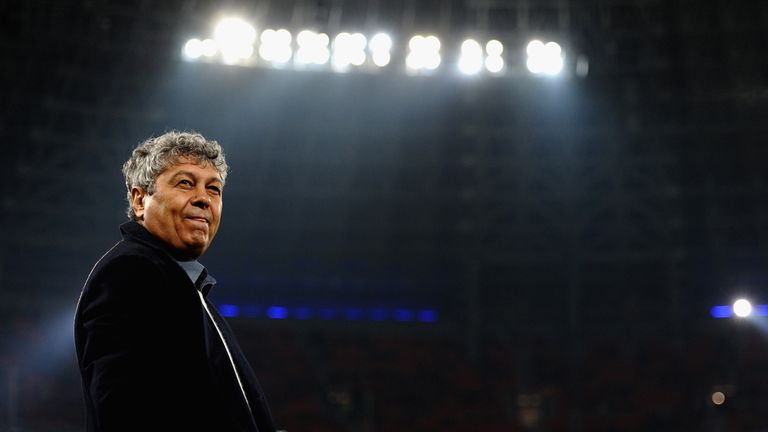 David Moyes was born in 1963. In that same year, Mircea Lucescu, the man who will on Wednesday be in the opposition dugout to the Manchester United manager, was beginning his professional playing career in football.
Having taken over at United in succession to Sir Alex Ferguson this summer, it is unlikely Moyes will face any more experienced manager than Lucescu. The current Shakhtar Donetsk boss is in his 12th management job having also spent 27 years as a player. He is a managerial legend, fluent in more than four languages, a seven-time Ukrainian title winner and a UEFA Cup champion. Indeed, Bucharest-born Romanian Lucescu has only six years less experience in football than the now-retired Ferguson.
That is an indication of the depth of know-how the under-pressure Moyes will be up against as he takes United on the long trip across Europe to the Donbass Arena for what will be just his second game as a manager in the group stages of the UEFA Champions League. On Matchday One, Moyes became the first manager to take charge of United in Europe other than Ferguson since Ron Atkinson guided them to the UEFA Cup quarter-finals in 1984/85. Moyes is also under huge scrutiny after Saturday's domestic defeat by West Bromwich Albion ensured he has been in charge of United for their worst start to a Premier League season. Not only that but Lucescu, who is the oldest manager in this season's Champions League and is the second longest-serving in a current job in the competition behind Arsenal's Arsene Wenger, also has plenty of previous encounters with teams from England.
It all started against English rivals for the now-68-year-old, who recently became Shakhtar's longest-serving coach - surpassing Oleg Oshenkov's previous mark of 3,416 days, in the second round of the European Cup Winners' Cup in November 1968 against West Brom. At that time, Moyes was five years old. As a 23-year-old Dinamo Bucharest attacking midfielder/forward, Lucescu helped his club to a 1-1 draw against a West Brom team containing the likes of Jeff Astle in their home first leg. Florea Dumitrache for Dinamo and Asa Hartford for West Brom were the goalscorers in the first half while the latter saw Ronnie Rees sent off in the second half. Lucescu was then not involved in the return leg at The Hawthorns as Dinamo were unfortunately hammered 4-0 to go out on aggregate.
Two years later, in 1970, when Moyes was just a few months past his seventh birthday, Lucescu was again facing English opposition. He was Romania's captain in a side who lost 1-0 to Sir Alf Ramsey's defending champions, England, at the World Cup finals in Mexico. Sir Geoff Hurst's left-footed goal was the difference between the two teams in sapping heat in Guadalajara. Lucescu had become his country's captain in 1969 at the age of just 23 and he went on to wear the armband for 10 years.
During this period of the 1960s to the 1970s, Lucescu would win seven Romanian League titles with Dinamo. He was known for his South American style and flair on the ball, which many consider is reflected in his desire to sign Brazilians for Shakhtar. He was a foil and provided numerous assists for two-time Golden Shoe winner Dudu Georgescu.
Lucescu's playing career as good as ended in 1982, although he did make a later appearance in 1990 when managing Dinamo, and he began working as a manager. This included taking the job of Romania's national team boss between 1981 and 1986. Lucescu had been given the job at the age of just 36. At this time, as a dependable if unspectacular centre-back, Moyes was playing at Bristol City having already taken in spells at Celtic and Cambridge United.
The Romania manager's job meant Lucescu was again facing an English team as he was in charge when his country twice drew with Sir Bobby Robson's England in the qualification stage for the 1986 World Cup. The two teams could not be separated in a 0-0 draw in Bucharest while Glenn Hoddle's opener was cancelled out by Rodion Camataru in a 1-1 draw at Wembley. England would win the group to qualify for the finals in Mexico but Lucescu's Romania just missed out after finishing one point behind second-placed Northern Ireland.
At the beginning of the 1990s, when a 27-year-old Moyes was playing for Dunfermline Athletic, Lucescu would venture away from Eastern Europe in order to test his management in Italy. It was an unsuccessful period and he suffered Serie A relegations with Pisa, Brescia and Reggiana. But Inter Milan still signed up his services in December 1998. Lucescu was only in charge of Inter, who at the time had Ronaldo and Roberto Baggio in their team, for three months as the club ultimately opted to bring in Marcello Lippi. But the period once again meant Lucescu faced English opposition.
Lucescu's Inter suffered Champions League elimination against United in the 1998/99 quarter-finals when Ferguson's team were en route to their legendary Treble. Moyes, meanwhile, was in only his second season of management at Preston North End, who in this season would lose in the old Second Division play-off semi-finals against Gillingham. Ryan Giggs played in both matches against Lucescu's Inter as United won 2-0 at Old Trafford before a 1-1 draw in Italy. Phil Neville, now on Moyes' current United coaching staff, was a late substitute at the Giuseppe Meazza. Lucescu did not take kindly to defeat by Ferguson's team and, notably for East Dunbartonshire-born Moyes, formed an opinion of Scots, as he said: "I always believed in the English sense of fair play. But Alex Ferguson is, of course, from Scotland and in Scotland they do not have fair play, apparently."
Again English rivals faced Lucescu in the 2002/03 season, which was Moyes' first full campaign as manager at Everton. In the Champions League group stage, when in a two-year spell at Galatasaray, Lucescu drew 0-0 at a Liverpool team managed by Phil Thompson in the illness-enforced absence of Gerard Houllier. An Emile Heskey equaliser then denied Galatasaray victory in a 1-1 draw in the return fixture in Turkey.
In October 2003, Lucescu, having boldly moved across Istanbul to Besiktas, then oversaw a 2-0 Champions League victory in the group stages at Chelsea. It was the London club's first defeat following billionaire Roman Abramovich's takeover thanks to Sergen Yalcin's two goals at Stamford Bridge. Besiktas, though, later lost by the same score at home to Chelsea and had to settle for third place in their group.
Further meetings with English opponents would follow. Lucescu would take over at Shakhtar in 2004 and that meant he eliminated Harry Redknapp's Tottenham Hotspur over two legs in the knockout stages of the 2008/09 UEFA Cup, suffered an aggregate defeat by Roy Hodgon's eventual finalists, Fulham, in the same competition in 2009/10, and beat Wenger's Arsenal in Donetsk having been hammered in London in the 2010/11 Champions League group stage. Last season, Shakhtar also recorded a home victory over then defending kings of Europe, Chelsea, before a narrow, injury-time away loss in the group stage. Chelsea would infamously become the first holders to go out at the first hurdle.
It all demonstrates how Moyes, with his inferior experience, is by comparison a young pretender. He faces a huge challenge. With 50 years' experience, a vast array of trophies and previous encounters with numerous English opponents, Lucescu is one of the managerial Godfathers of world football.