Champions League: Olivier Giroud has no burn-out fears at Arsenal
Olivier Giroud is confident he can cope with the demands of being Arsenal's leading frontman at home and abroad.
Last Updated: 24/10/13 8:18am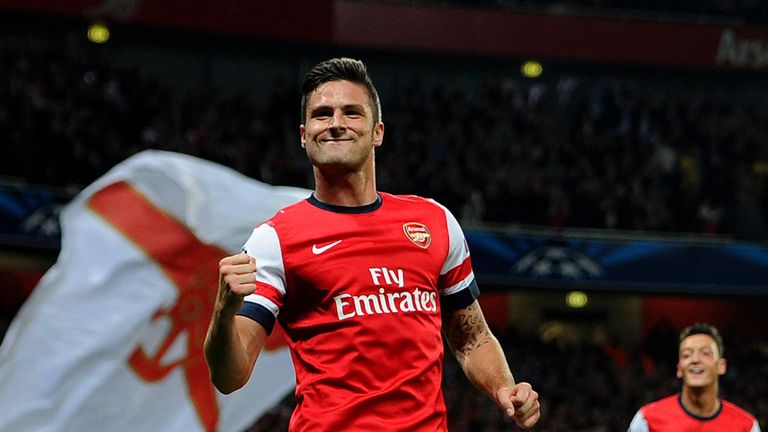 With the Gunners short of striking options due to injuries to Lukas Podolski and Theo Walcott, manager Arsene Wenger has been left with little choice but to pile added workload on Giroud's shoulders.
The France international has responded with seven goals, and two more for his country, but has already taken in 18 domestic, European and international appearances.
With plenty of big games to come in the Premier League and UEFA Champions League, on top of a 2014 World Cup qualifying play-off with Ukraine, Giroud's schedule remains testing.
He is, however, of the opinion that he is at peak fitness and capable of handling a gruelling fixture list.
"Maybe I will have some rest next week, for the Capital One Cup," said Giroud.
"I will speak to the boss but I am used to playing a lot of games and I feel good with my body so, touch wood, no injuries."
Giroud's latest outing came in the Champions League on Tuesday, as Arsenal were undone by a late Robert Lewandowski goal in a 2-1 defeat against Borussia Dortmund.
That setback at Emirates Stadium brought the Gunners' 12-match unbeaten run to an end, but Giroud is confident a positive response will be offered against struggling Crystal Palace this weekend.
He added: "I don't want to look for excuses as to why we lost to Dortmund. We lost but we have won almost every other game - there was just the defeat to Aston Villa and the draw at West Brom in the league.
"It's not the time to really be worried but we want to come back on Saturday and win at Crystal Palace.
"We were really close to scoring the second goal against Dortmund but they kept going and they scored the winner on the counter-attack.
"It's a shame because we could have done much better. We finished the game better than them and that's why I'm really disappointed, because if we couldn't win the game, we didn't have to lose it. In the Champions League, it's like that - about the details."