Champions League: Per Mertesacker says Arsenal ready for tough knockout tie
Per Mertesacker believes it could be a good thing Arsenal may have to face one of the top sides in the Champions League.
Last Updated: 12/12/13 2:32pm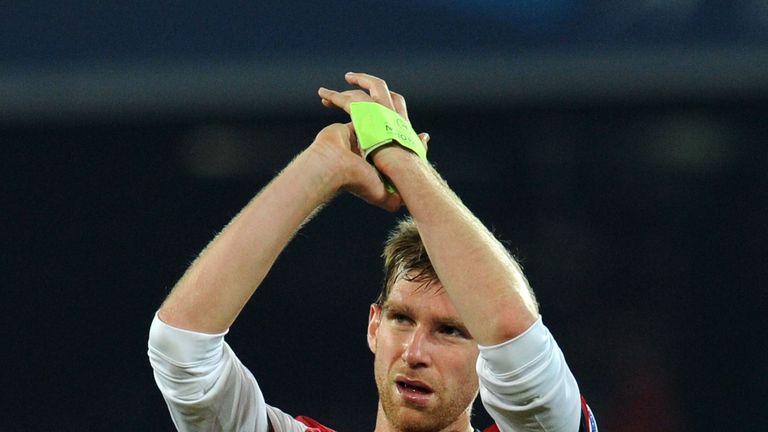 The Gunners finished second in Group F after losing 2-0 to Napoli, with Borussia Dortmund taking top spot following their 2-1 victory over Marseille.
It means Arsene Wenger's side could have to face Barcelona, Bayern Munich, Real Madrid or Paris St Germain in the first knockout round when the draw is made on Monday in Nyon, Switzerland.
However, Germany defender Mertesacker believes the Premier League leaders can raise their own levels of performance to match any opposition, as they did last season when they ran eventual winners Bayern Munich close before losing on away goals.
"We got Bayern Munich last year and nearly went through. If you want to achieve something in the Champions League, you have to take every opponent seriously and I think it is better for us when we have a good lot, when there is a draw that we can concentrate on," Mertesacker said.
"When you look at the teams that finished top, if you pick one out, for me, I don't mind.
"You never know what can happen with a good draw and a serious opponent, you can get so much out of a defeat or a disappointment.
"I hope that we learn a lot from Naples and we are aware of the next opponent."
Arsenal also face a tough period domestically when their title credentials will be tested with a trip to Manchester City on Saturday followed by a home game with Chelsea on 23 December.
Mertesacker said: "It is always difficult especially now after 15 games in the league and the Christmas period is coming.
"You think you have a good chance to achieve something this season but you have to keep your momentum and that is really important.
"Now everybody is pulling a bit, questioning our group, and if we can maintain that level so we have to stay together and think that 'yes, we are strong enough'."