Champions League: Arsenal have belief to beat Bayern Munich, says Arsene Wenger
Arsene Wenger insists his Arsenal side possess the belief to overcome Bayern Munich in their Champions League tie.
Last Updated: 19/02/14 6:15am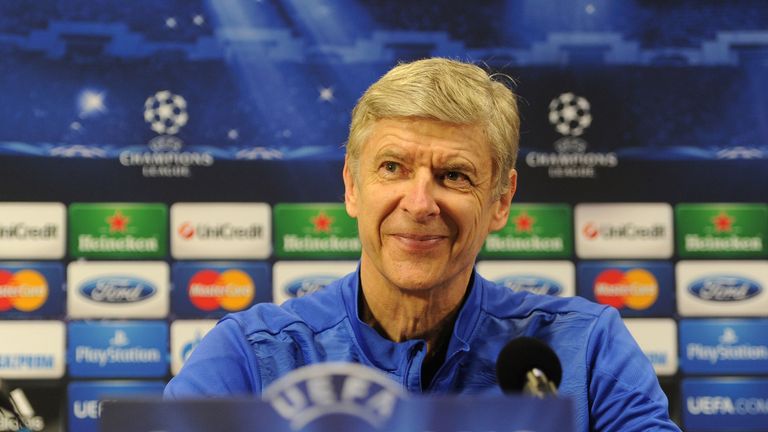 The Gunners, who are a point behind Chelsea at the top of the Premier League table and into the last eight of the FA Cup, host the defending European champions for the first leg on Wednesday evening with last year's defeat at the same stage of the competition fresh in Wenger's mind.
His side's 2-0 win in Munich was not enough to seal passage into the quarter-finals after the 3-1 home loss in the first leg, and Wenger is determined to avoid a repeat this year.
"We have a strong team spirit, a strong desire to do well and a united team. Belief is built by results and on that front, we are stronger of course," he said.
"Last year, we went out on the away goal, so that shows it's important not to concede at home. Our home form will be vitally important in this tie.
"But I think we are in much better mental shape than we were a year ago. We lost against Blackburn at home in the FA Cup and that was a big disappointment for us, but this year we won against Liverpool and we are really determined to win this game tomorrow.
"Since the start of the season, we have done well and it's now down to us how well from game-to-game we can show the same spirit and focus we showed against Liverpool.
"Every minute counts in a game of that stature and we are conscious of that and we will try to start very strong."
Wenger said Tomas Rosicky will replace the suspended Mikel Arteta in his squad, which has recovered well from Sunday's FA Cup win.
"We know that we face the favourite of the competition, but we have belief, because we've had only big games," added the Gunners boss.
"Since the start of the season, we know that in every game we have to be absolutely 100 per cent. We believe we can do it but it's down to the quality of the performance.
"With the quality of players on the pitch on both sides, it's nearly impossible to play without style. They will produce a quality game."
Wenger also played down the influence of himself and opposite number Pep Guardiola, saying: "If you look at the history of the Champions League, you will see that it's always the big players that make the difference.
"The main heroes are on the pitch, not on the bench."
Watch Arsenal take on Bayern Munich at the Emirates Stadium live on Sky Sports 1HD from 7pm on Wednesday night.