Champions League: Jack Wilshere says Arsenal will focus on defence in first leg against Bayern Munich
Jack Wilshere says Arsenal will not ruin their chances of progress by chasing a win against Bayern Munich on Wednesday.
Last Updated: 19/02/14 8:14am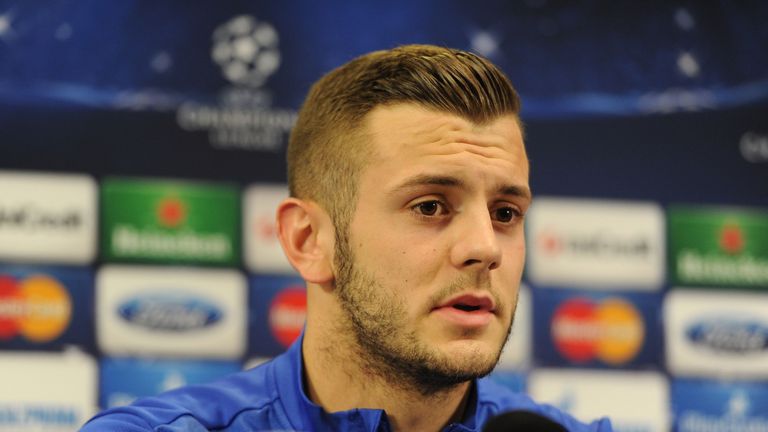 Arsenal face Bayern in the last 16 for the second season in succession having gone out on away goals at the same stage last year.
Arsene Wenger's side won 2-0 in Bavaria, but not even that result was enough to undo the damage of a disastrous home leg which saw Bayern 2-0 up inside 21 minutes on their way to a 3-1 success.
Arsenal go into this year's rematch with an impressive defensive record at home: since October only Everton's Gerard Deulofeu and Steven Gerrard of Liverpool have scored an opposition goal at the Emirates.
And on the eve of the first leg in north London Wilshere outlined Arsenal's determination to go to Germany with a fighting chance of eliminating the European champions.
He said: "We were a bit nervous going into the game last year. We lost to Blackburn in the FA Cup the game before.
"There was a lot of tension in the stadium and it was a big game. Once we calmed down a bit, we took the game to them a little bit.
"This year we'll be intelligent going into the game. First of all we'll work on our defensive duty and then we'll play.
"We've spoken about the importance of staying in the game. If it's 0-0 at home we've still got a big chance to qualify. The away goal is massive in this competition."
One factor in Arsenal's favour, according to Wilshere, is a solidarity which means they can now 'win ugly'.
He said: "It's been a long time since we won a trophy, but we showed this season in games when we didn't play our best but we won. That shows the team spirit. We fight for each other."
Watch Arsenal take on the European champions live on Sky Sports 1 on Wednesday. Coverage begins at 7pm