Champions League: Frank Lampard lifts the lid on Didier Drogba's emotions
Frank Lampard says Didier Drogba is 'delighted and nervous' ahead of a reunion with Chelsea in the Champions League.
Last Updated: 24/02/14 2:59pm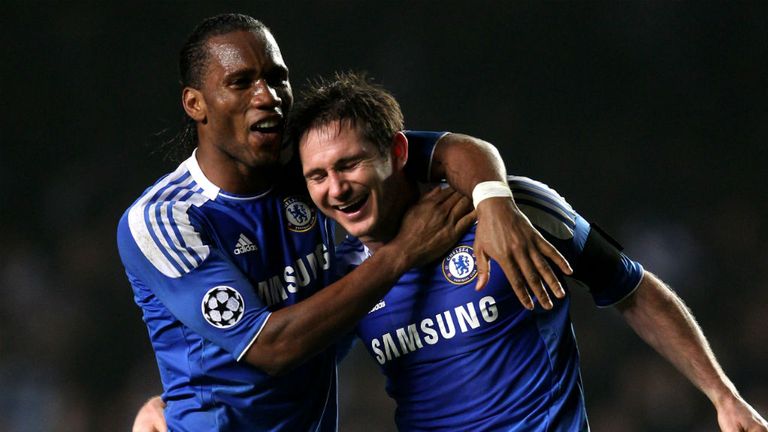 Drogba, who spent eight successful years at Stamford Bridge between 2004 and 2012, is set to face his former employers for the first time on Wednesday since heading for pastures new.
His final act as a Chelsea player was to stroke home a penalty which ended their long wait for European glory, and now he will line up against them attempting to prevent that success from being repeated.
Lampard believes Drogba should embrace the occasion, especially when he is given a hero's reception in west London, but also understands why a Blues icon of the modern era may be experiencing mixed emotions.
He told Chelsea TV: "I texted him after the draw because we still keep in touch.
"He was delighted and nervous actually because he said it would be difficult for him to come here to Stamford Bridge. He still sees it as his home and his love.
"I said to him that once he gets back and has the reaction from the fans, he will absolutely love it, both games. I'm sure he will. The draw did have an air of inevitability. It is amazing how often these things happen in football."
Lampard added: "You will see a return of a hero and rightly so with what he did with his last kick for us. It was the best two days of my life in football terms by a million miles. It was just incredible from start to finish and every fan you talk to is a 'where were you when you saw it' moment.
"But it wasn't just that. There were finals galore, big games. In the dressing room behind the scenes he was a real leader and people didn't see that - one that we have certainly missed, he was so complete.
"He is the best I have played with solely for the fact of doing it in big, big games. There are a lot of good players out there, but he consistently scored in finals and popped up at the right time.
"I have played against great players and Lionel Messi and Cristiano Ronaldo are probably the best, but he is right up there without a doubt."
While Drogba has taken the decision to try his luck elsewhere, Lampard remains a Stamford Bridge stalwart with over 600 appearances to his name.
It is again being speculated that his time in west London could come to a close when his contract expires in the summer, but the 35-year-old has offered no indication that he is ready to move on.
He added: "I'd love to win more trophies.
"I have a fairly full set already, which is great, but the minute you lose that desire to step out and train hard, play the next game and be part of a winning team, you do suffer. I certainly haven't lost that. It is just something inside you really."