Lionel Messi inspires Barca as Bayern cruise into Champions League semi-finals
Our experts hailed super sub Lionel Messi as Barca and Bayern made the Champions League semis.
Last Updated: 11/04/13 9:19am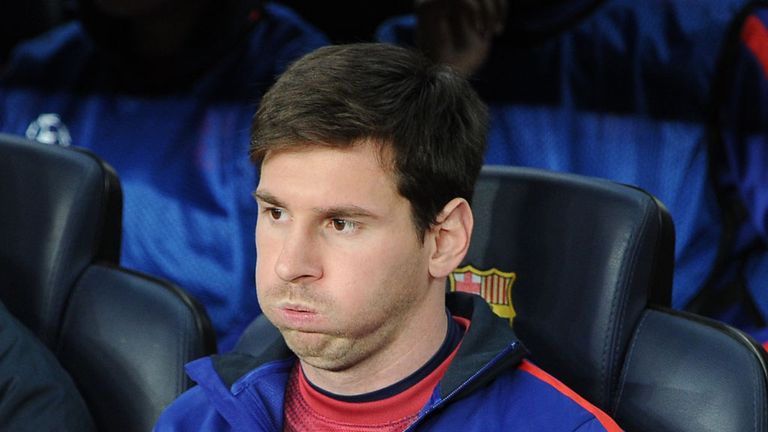 The French side were on course to go through after Javier Pastore's opener but Messi - who picked up a hamstring problem in the first leg - arrived as substitute and played a part in the build-up to Pedro's leveller, which put Barca into the final four on away goals.
Meanwhile, in Turin, Bayern Munich eased into the semis with a comfortable 2-0 win at Juventus, which earned them a 4-0 aggregate success over the Serie A leaders.
The pair now join Real Madrid and Borussia Dortmund in the hat for the semi-final draw, which you can see live on Sky Sports News HD from 11am on Friday.
Here's what our Sky Sports experts made of the action:
Barcelona 1-1 Paris Saint-Germain (agg: 3-3 - Barca win on away goals)
Jamie Redknapp: It was as if Messi came onto the pitch and said 'listen - relax; everything is going to be ok, just give me the ball and something will happen' and that's pretty much what happened. Messi transcends that team. The whole crowd lifted and the anxiety left the players. David Villa, who had a disappointing game up until then, started to believe and was instrumental in the goal. It was an incredible cameo. He is such a special footballer, with such a desire to play and appetite to win. Physios throughout the country must be petrified because you used to be out for six weeks with a hamstring injury and Messi's back after a week! He might not have been at full tilt but he still did enough.
David Ginola: Messi did more than enough - he was amazing - but it was frustrating to see a really good team, as Paris were, to lose. They managed to play a good game. If you went back to Paris after losing the game by three or four goals, you can say that you lost to a better team. But over two legs they haven't lost against Barcelona and that makes things pretty interesting for the future. It's a different game playing Barcelona without Messi - we saw that in the first half, where Paris didn't play in the same way as they did when Messi came on. It's a psychological part of the game.
Graeme Souness: Messi was miles away from where he'd want to be but when he came on he did get involved in a couple of little sprints, which made you think 'be careful', but he got away with it. I thought Paris were fabulous for the hour before Messi came on but all of a sudden when he came on it was as though he gave everybody belief - and it wasn't just when Barcelona had the ball. They were closing down quicker, they had more belief in doing it as a collective unit when they were going hunting for the ball whereas before that they had been doing it individually, which is not them. But from the moment that Messi came on Barcelona found another gear.
Juventus 0-2 Bayern Munich (agg: 0-4)
Steve McClaren: I was very disappointed with Juventus, but it was a very organised, disciplined professional performance by Bayern. When you look at the two teams, both leading their respective championships by a long margin, the gulf was enormous. Bayern expected the first 20 minutes of each half to be Juventus coming at them and they did - Juve had a couple of chances - but Bayern survived that and in the end totally dominated and controlled the game.
It was Bayern's 4-5-1 formation against a 3-5-2 from Juventus. Most top teams are quite flexible in what they can do to change games, but Juventus weren't flexible enough over the two games; they stuck with the three at the back, with Pirlo sitting and didn't change formation, didn't change anything and in the end Bayern were too professional, too organised and too disciplined.
At this level to play a 3-5-2 against these good teams who are very intelligent and tactically aware, you can get punished. Bayern have done their homework, knew how to play against a 3-5-2 system, used their full-backs, used their wide men, controlled possession through midfield and did a totally professional job.
The quality of the Bayern players is far greater than the individual quality of the Juventus players - and we've seen that in this game.
It would now be good to see a Barcelona v Real Madrid semi-final and Bayern v Borussia Dortmund semi-final. You'll then get two styles which are the same in the semis but in the final you'll get contrasting styles and that would be good. But all four teams deserve to be there, they are the best four teams in Europe at the moment and have got special players.