A modern saga
The shadowy world of the football agent is one that is cloaked in secrecy amid accusations of greed. Thankfully, we've got one of the good guys on board to lift the lid on what life really is like at the sharp end of a notoriously cut throat business.
By The Secret Agent - @SSSecretAgent
Last Updated: 28/02/12 11:55am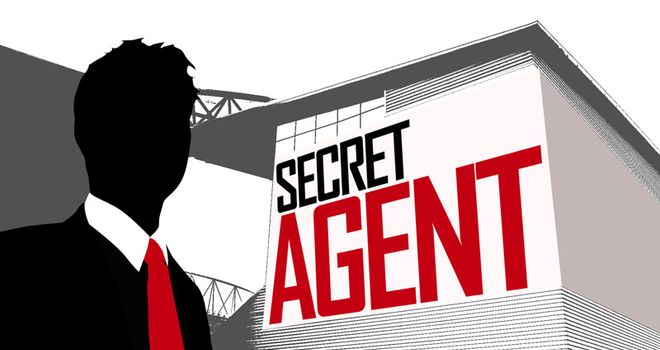 I'm not in the right frame of mind to write my column, so if you forgive me I'm just going to leave it for this week and expect Sky Sports to still pay me. Good work if you can get it Luka but some of us have to work for a living.
Tottenham fans must have been embarrassed when Harry Redknapp had to face the cameras to tell the watching world his best player wasn't in the right frame of mind to play at Old Trafford. A player should play no matter what. We all go to work with things on our minds. A lad on my books once starting playing up after having his head turned by a club higher up the football pyramid. I told him as long as it hadn't fallen off he'd be playing. No excuses.
Modric couldn't walk onto the pitch and play football against the champions, live on Sky Sports, because his move to Chelsea has stalled. His team-mates must have been made up with him: 'Cheers bud, you stay back at home crying into your cornflakes while we have to cope with a kid thrust into the action before he's ready as a replacement'. If I was Modric's agent I'd think very hard about the advice I was giving my client. In the space of a couple of months the Croatian has gone from being one of the most respected players in the Premier League to one some top managers must now have reservations about.
A question that people have asked me this week is why it took a couple of agents and the father of the player to facilitate Samir Nasri's move to Manchester City. Were they all really needed? In all honesty, probably not.
Nasri is looked after by a prominent French agent, the same person who used to look after Cantona and Zidane, and who continues to handle Franck Ribery. As we all know Nasri was pretty cute with the press and never actually came out to demand a move. To do this would have been a breach of his contract obligations, meaning he would miss out on certain loyalty bonuses due to him when he finally moved. You'll notice he's not been so candid in the comments he's made since the ink has dried.
Also, as Arsenal didn't publicly say they wanted to sell him, which of course they didn't, the player and his agent didn't have the Gunners over a barrel to get a nifty pay-off fee. A good example of a club wanting to shift a player is Blackburn and El Hadji Diouf. They seemingly want rid but he's not asked to leave so he's quite within his right to take a full pay-off on his contract.
But why does it take more than the player's primary agent to complete a deal when the clubs are in the same league and their respective officials are on first name terms? Why did it almost break down when on paper it looked a cut and dried transfer?
Well, Arsenal couldn't involve anyone connected with them to discuss the deal as it would look like they were willing to sell and would have had to pay out to the player. City wouldn't have needed the help of an agent as they put an official offer in direct to Arsenal. The word on the street is that several agents got involved as Nasri's camp/family had become concerned a deal was looking someway off from being struck.
Had Arsenal played Nasri in the Champions League qualifier against Udinese this week it would have severely compromised his appeal to City. Roberto Mancini's side would have gone after someone else and Nasri might have had to put up with up his meagre £65,000 a week instead of the £100,000+ he now gets.
Nasri was always going to leave Arsenal, as was Fabregas, it just seems daft that Arsenal left it so late to complete the deal and haven't planned on who they will bring in before Wednesday's deadline.
Everyone, including agents looking for their cut, now know how much Arsenal have in the bank. Whoever they try to buy, be it Cahill, Jagielka or Hazard, the price will be inflated even more now. And with Arsene Wenger not being one to spend inflated prices, Arsenal may again lose out.
Sly and the Family Stone sang the song 'It's a Family Affair' and in the football business this song is becoming more and more apt.
The involvement of Nasri's father in the proceedings highlight a growing trend in the business where sons, fathers and occasionally daughters are becoming more and more involved in the football world these days. Nepotism is as rife in football as it is any other industry.
I'm not in the business of naming names but any rudimentary google search will reveal that a number of Premier League bosses have kids involved in the industry in some capacity or another. Of course there's nothing inherently wrong with fathers helping their children but it makes for a pretty uneven playing field with regards who has the best little (or in their case humongous) black books.
You can't blame people for maximising contacts but there's a pervading sense amongst us mere mortal agents that we're getting the rough end of the deal in some respects.
It doesn't sit well with a lot of people how this is becoming so regular a feature in this country, especially for The FA and the Licensed Agents who follow all the rules and regulations laid down to them by Fifa. If an agent makes an honest mistake on a form it's pounced upon with threats of suspensions and fines, but if a non-regulated person and one that is related to someone in the game manages to cause a conflict of interest then I've heard of more lenient stances being taken.
It's enough to send you loopy and do a Modric!
I'll be blogging throughout the summer for skysports.com so if you've any questions or feedback fill in the feedback form or catch me at @SSSecretAgent and I'll look to address them in my next column.