Quotes of the week
Mr Tevez is left feeling blue in a week when athletics and the rugby World Cup feature heavily.
Last Updated: 07/09/11 3:50pm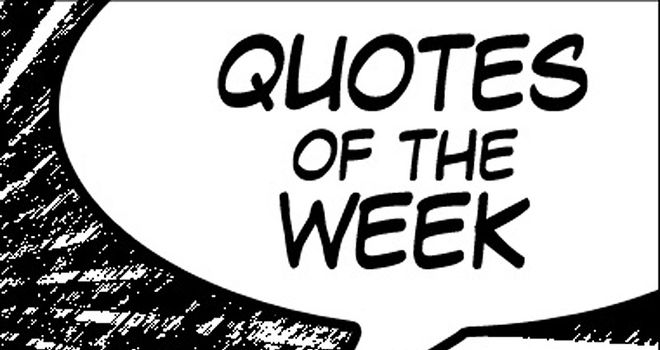 "I'm not the s**t that they say I am. I had a personal crisis this summer. I put on five or six kilos and had to check into a clinic. I was depressed and so I ate and ate. Only my family and friends know this. It's the bad feeling towards me that I can't stand." Carlos Tevez puts down his doughnut to sing the blues.
"I want to show the people who think Kolo Toure needed a tablet to be a better footballer that it's not the case. It was an accident." Kolo Toure refrains from offering Tevez any dieting advice.
"We had clashes with Mancini in every language but it's a love-hate relationship." Tevez lifts the lid on life at Eastlands.
"I wasn't nervous. He just said he prefers me as a footballer not a writer." Theo Walcott gets some literary advice from Fabio Capello.
"I received tweets, mainly from Leeds and Swansea fans, telling me I was a one-cap wonder and that I've done a Michael Ricketts."Jay Bothroyd does a Franny Jeffers.
"I don't know anything about his lifestyle. It is a private problem that I never spoke about. But if he wants to be a good player and a good sportsman, he needs to drink less than the others." Fabio Capello advises Andy Carroll to put down that Newky Brown.
"I'm delighted that Craig is back - I didn't want him to leave in the first place. That pace and the fiery character he's got will help us in our push for success this season." Steven Gerrard plans a round of golf with old pal Craig Bellamy.
"I think that's an insult to me and I think this interview is over." Double amputee Oscar Pistorius storms out of a radio interview with the BBC after being asked if he considered himself "an inconvenient embarrassment" to athletics authorities.
"We're going to start this morning's action with the men's 400-metre hurdles first round. And history in the making as Oscar Pistorius from South Africa makes history." Ortis Deley sets the tone for Channel Four's coverage of the athletics.
Before passing on the baton on inanity to Iwan Thomas: "Lemaitre has been running so fast, his French letters are hanging off him."
Leaving it to Katharine Merry to run the anchor leg: "When you've won two world bronzes, the gold medal must be that little bit more shinier."
"It's a lot easier during the winter months to train when you have a gold medal on the mantelpiece. Now I've got three from three from the last championships and I want to complete the set next year." Dai Greene does the business in the 400m hurdles.
As did Mo Farah in the 5,000m: "I can't quite believe it. I pictured the 10k on the last lap thinking, I came so close then I'm not going to let anyone pass me."
"It's a world championships and if I had to take silver anywhere I'd want it to be here, because next year is the Olympics and I want gold there. I was devastated after the javelin. I knew I'd thrown it away. I haven't shed any tears, but I might do soon." Jessica Ennis comes to terms with losing her heptathlon world title.
"I'm not a legend, yet. I'm on my way, but I've got to go to London and blow people's minds, to go to the Olympics and do something extraordinary." The ever shy and retiring Usain Bolt enjoys his gold in the 200m.
"I'm absolutely flippin' livid. I was just looking at a few photos and I'm in most of them. When I said I was going nowhere two of them grabbed me by the arms. You couldn't make it up." Lancashire legend David Lloyd is turfed out of the Old Trafford pavilion by security.
"I just got a sudden big cramp in my thigh. It could have happened anywhere but it was just bad luck it happened in public." Rafael Nadal entertains the media by sliding under a table at his US Open press conference.
"World Cups are about pressure, dealing with it off the field, dealing with it on the field when you get into close games. Finding a way to win is what World Cups are about. If you talk about style, it is the team that can battle back and find a way to win a close game." Martin Johnson prepares his troops for battle in New Zealand.
"Rugby is like a sponge. It's constantly soaking up knowledge acquired from other sports and other fields. Other sports tend to stay the same but rugby is ever-developing." England lock Simon Shaw reflects on how rugby union has evolved over the years.
"They're really tough. I broke my jaw in the first minute the first time I played them, so I know they're a pretty physical side." Wales captain Sam Warburton limbers up for his side's World Cup opener against South Africa.
"You need someone to grab people by the throat - in a nice way - and get people going." Neil Warnock on new boy Joey Barton. A match made in heaven.
"Because of the friction of the pants with the saddle, I am suffering from an injury to the scrotum." Belgian road bike racer Tom Boonen offers way too much information.
"I once asked Maldini's father Cesare about him. He looked at me as if I was a madman and that response was enough to understand that the answer would be no." Sir Alex Ferguson turned to Clayton Blackmore after being thwarted in his bid for Paolo Maldini.