Pep: The Barca years
We take a year-by-year look at Pep Guardiola's trophy-laden time as Barcelona coach.
Last Updated: 27/04/12 3:25pm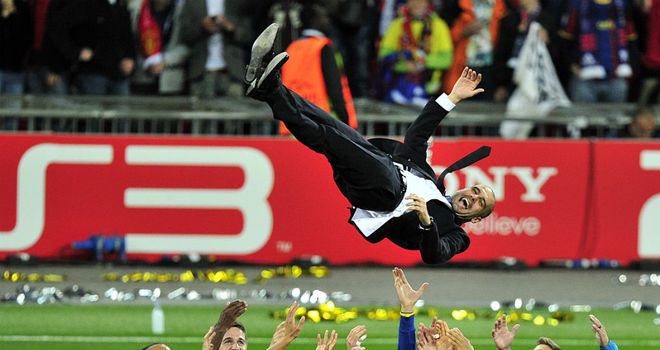 Pep Guardiola will not be renewing his contract at Barcelona after four trophy-laden years at Camp Nou. With Barcelona having been knocked out of the UEFA Champions League at the semi-final stage to Chelsea and on the precipice of handing over their Primera Liga title to bitter rivals Real Madrid, Guardiola has decided now is the right time to relinquish his post. The universally admired tactician says he is to take a break from coaching after four memorable years at the Catalan institution but leaves behind a wonderful side bettered by few, if any, in world football. Here we chart his time in charge of his boyhood club.
2008/09
Barcelona's new head coach, appointed as Frank Rijkaard's replacement, decided he needed a fresh squad and sold Ronaldinho, Deco and Gianluca Zambrotta amongst many others. He then guided Barca to a domestic and continental treble, the first Spanish side to achieve the feat. The Copa del Rey was secured with a 4-1 victory over Athletic Bilbao and the title followed after a league campaign that involved a 20-match unbeaten streak and a 6-2 win over bitter rivals Real Madrid at the Bernabeu. The treble was completed when they beat Manchester United 2-0 in the Champions League final in Rome with Lionel Messi taking centre-stage.
TROPHIES WON: Copa del Rey, La Liga, Champions League.
2009/10
The Spanish Super Cup, UEFA Super Cup and World Club Cup were added to Barcelona's trophy cabinet before the turn of the year, making Guardiola the first manager in history to win six honours in one calendar year. They failed to defend their Champions League crown after being eliminated by Inter Milan at the semi-final stage but retained their La Liga title with a record points total of 99. During the season Guardiola also became the first ever Barcelona manager to orchestrate four successive El Clasico victories over Real Madrid.
TROPHIES WON: Spanish Super Cup, European Super Cup, World Club Cup, La Liga.
2010/11
Another Super Cup success and La Liga title followed for Guardiola although he did taste his first ever defeat in a final as his side lost 1-0 to Real in the Copa del Ray. Another Champions League success was secured, again beating Manchester United, this time 3-1 at Wembley after overcoming Real in the semi-finals.
TROPHIES WON: Spanish Super Cup, La Liga, Champions League.
2011/12
Victories in the Spanish Super Cup and European Super Cup meant Guardiola now had won more trophies than any previous Barcelona manager.
More silverware was to come as Barcelona beat Santos to defend the World Club Cup and they have also advanced to the final of the Copa del Rey where they will face Athletic Bilbao. But they have been overhauled in the league by Jose Mourinho's Real Madrid who, following a 2-1 victory in the Nou Camp, went seven points clear with only four league games remaining. Barcelona also missed out on defending the Champions League after falling 3-2 on aggregate at the semi-final stage to a spirited Chelsea side who played with 10-men for 53 minutes in the second leg following John Terry's red card.
TROPHIES WON: Spanish Super Cup, European Super Cup, World Club Cup.
TOTAL TROPHIES: La Liga (three), Spanish Super Cup (three), Champions League (two), World Club Cup (two), European Super Cup (two), Copa del Rey (one).