Centurions club
As four players pass the century mark, we look at who is racking up the points in Sky Sports Fantasy Football. It's perhaps no surprise Luis Suarez is leading the way...
Last Updated: 05/12/12 5:53pm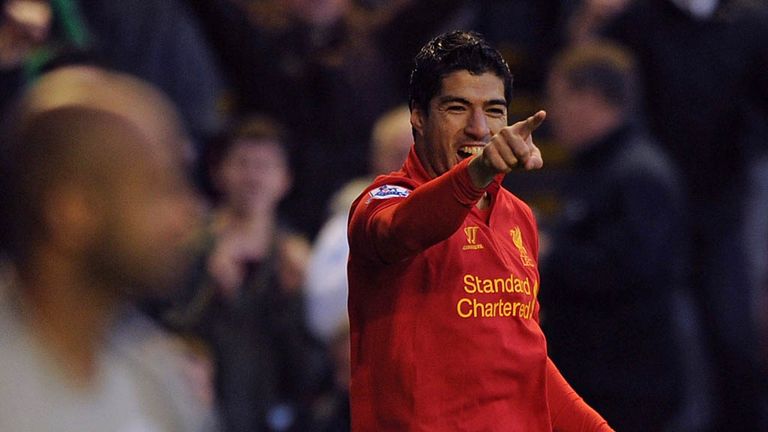 Luis Suarez - 104 points
Liverpool may be enduring somewhat of a transitional season but it only seems to be benefitting their Uruguayan striker. The £9.6m valued frontman has profited from being the focal point of the Reds' attacks, scoring over half of their goals this season. Netting 10 times, contributing three assists and picking up four Sky Sports man-of-the-match awards, Suarez tops the charts after 15 games. The only slight on the 25-year-old is his tendency to clock up cards, with a fifth booking against Southampton ruling him out of Sunday's trip to West Brom.
Marouane Fellaini - 103 points
Everton's midfield anchor turned target man has been virtually unplayable this season, proving a constant torn in Premier League backlines. His displays have been recognised with a league-high of six man-of-the-match awards, while eight goals and four assists have seen him average 7.9 points per game. At £6.1m, the towering Belgian has been the best value-for-money player this season, returning 16.88 points per £1m.
Santi Cazorla - 101 points
Summer signing Cazorla has been one of the main beneficiaries of the new bonus points system, racking up 20 from his impressive passing with 60+ completed successfully in 10 games this season. Four goals, three assists and four man-of-the-match awards make him another bargain buy at £6.7m, but form has been on the decline of late. The Spanish playmaker has picked up just eight points from his last three games, coinciding with the Gunners scoring just once in that run of games.
Demba Ba - 100 points
The Newcastle striker became the fourth player to clear the 100 milestone, with his brace on Monday night against Wigan being rewarded with 17 points. That double saw him join Van Persie, Suarez and Michu on 10 goals, while two assists and three man-of-the-match awards have also helped him reach the ton. Ba's resurgent form seems to have come at the expense of his strike partner Papiss Cisse, who has picked up a mere 32 points with just two goals this season.
Jermain Defoe - 96 points
Questions over whether the England frontman could lead the Tottenham line have certainly been muted with nine goals from 14 starts, including four in his last three. Emmanuel Adebayor's lack of form and discipline and Clint Dempsey's struggles in front of goal has also contributed to the 30-year-old cementing his place as Andre Villas-Boas' first choice frontman. Defoe should be able to add to his tally over the coming weeks with Spurs enjoying a favourable run of fixtures.
Robin van Persie - 92 points
The game's most popular captain, with the armband for 22 per cent of sides, has hardly failed to deliver with 10 goals and five assists so far for Manchester United. However, unlike last season, the Dutchman is far from the runaway leader he was last season, with a lack of man-of-the-match awards hampering his tally. He was named man-of-the-match 12 times last season, amounting to 60 of his 310 points, compared to the solitary award this season, with Wayne Rooney claiming the majority of the plaudits for his supporting role.
Michu - 92 points
Swansea's summer signing is surely the revelation of the season with an impressive 10 goals so far, including three in his last two appearances. Operating either alongside another striker or as a lone frontman, the Spaniard has been more of a finisher than creator, contributing just the single assist. At a mere £5.5m, Michu trails Fellaini by the smallest of margins in terms of value-for-money.
Eden Hazard - 87 points
Chelsea's attacking midfielder made a stunning start to life in the Premier League as he racked up 46 points as he was named man-of-the-match in all of his first three games, contributing six assists and opening his goalscoring account. However, the flow of points has significantly steadied since, netting twice and contributing just the single assist as the Blues have slipped off the boil. Hazard is actually still the game's most popular player with a place in 44 per cent of sides, with his relatively modest price tag of £7.7m seemingly holding appeal.
Wayne Rooney - 83 points
The England striker's contribution to Manchester United's season may appear modest to the casual onlooker, resulting in a place in 11 per cent of sides, but his Fantasy stats tell a different story. Rooney's deeper role may have limited his goals tally to four, but has also seen him pick up a league joint high of seven assists, with his broader contribution being recognised with five man-of-the-match awards. The 27-year-old has actually managed the third most points-per-start this season at an average of 7.5 but does cost a hefty £9.9m.
Juan Mata - 81 points
Like his team-mate Hazard, Mata's form has swung between stagnant and sensational, making a slow start before scoring four and setting up another five during a five-match spell. The Spaniard has added proficiency in front of goal to his creativity this season, with just one less goal to his name than last term already. Another pick up in form should be expected, with Sunderland (A), Aston Vila (H) and Norwich (A) up next.