Brazilian star Dede set to leave Vasco Da Gama for Corinthians
Dede's agent insists that the young defender will not be leaving Brazil and he looks set to move to Corinthians.
By Paulo Freitas
Last Updated: 09/04/13 1:58pm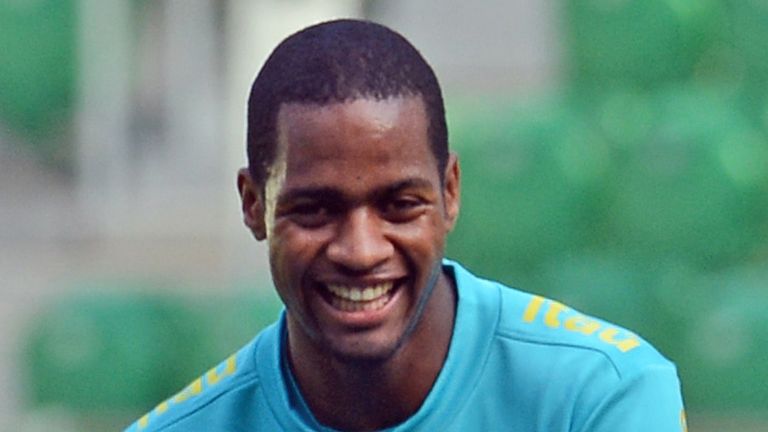 The 24-year-old Vasco Da Gama ace has been linked with the likes of Manchester United, Chelsea and Liverpool, as well as Italian giants AC Milan and big-spending Paris Saint Germain.
However, the international centre-half is focused on the 2014 World Cup and, as such, is not looking to leave the country.
Instead, he plans to follow the trend of a number of Brazil's top young players after the likes of Neymar, Leandro Damiao and Bernard all shunned moves across the Atlantic.
Ubiraci Cardoso, who is one of Dede's agents, told UOL: "Dede wants to play the World Cup and stay in Brazil.
"We'll have more news within the next days. The investors [that own a percentage of Dede's rights] have good relations with Corinthians and that may help. But there is still some distance before the deal can be made official."
Another of Dede's representatives Giuliano Aranda told Gazeta Esportiva: "I can't deny that Corinthians is a possibility, but other clubs expressed interest.
"This is a delicate moment for Vasco and we have to respect the club as Dede has a strong identification with them. He has had many chances to leave Vasco but he always respected them.
"Dede has always worried more about his career than about offers, but Vasco are in a delicate moment. It's the time to talk about his future but always respecting the club."
Vasco's president Roberto Dinamite told Italian website Tutto Mercato: "Many clubs are following Dede, but he has a contract with us and he wants to stay until the World Cup, which will be played in Brazil.
"A lot is said about Paris Saint Germain and Russia, but I have not received any formal offers that I can look at and evaluate.
"I can say that Dede wants to stay here with us until 2014."